'Missing Baggage' mainly due to passenger negligence: Authorities
By Sandun Jayawardana
View(s):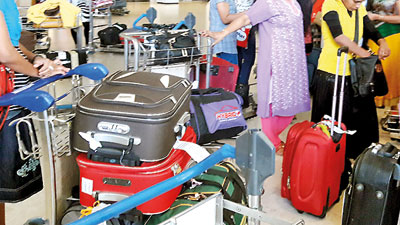 Failure of airline passengers to observe basic requirements to keep their luggage secure is the main reason for thems to go missing at  the Bandaranaike International Airport (BIA), authorities say.
Police claimed, incidents of organised luggage theft at BIA are rare. However, the continued failure of airline passengers to take basic precautions could open the door to thieves.
Passengers were not directing enough attention towards securing their luggage, officials told the Sunday Times. Many kept their bags on the conveyer belt while duty-free shopping. Even after collecting the bags, they did not keep a close watch, while some packed valuable items in their check-in luggage.
One of the main issues observed in Colombo recently was of passengers sometimes taking others' bags by mistake. Arriving passengers should collect their bags before doing anything else such as duty-free shopping, urged Head of Airport Management, H.S. Hettiarachchi.
"In fact, passengers are supposed to do their shopping after collecting their baggage from the conveyer belt, soon after clearing immigration," he stressed. There is no bar to passengers collecting their bags and returning upstairs to the duty-free section.
"I have never come across an incident where someone from outside came into the airport, grabbed a passenger's bag and fled, which is virtually impossible, given the security measures taken within the airport perimeter" said Acting Head of Security Services, Wing Commander S.M.D. Wijesooriya.
These include a CCTV camera system, which now also covers areas outside the terminal. Wing Cmdr Wijeesooriya acknowledged there were still some 'blind corners' within the terminal, but stressed they were working towards installing cameras in these areas.
While it was the airport's responsibility to ensure the luggage was delivered safely from the airplane onto the conveyer belt, it was the passenger's responsibility to look after their bags once the bag leaves the belt. "In many cases, it is simply the passenger's negligence that allows their bags to become misplaced," said Wing Cmdr Wijesooriya, adding that his officers had mostly seen a passenger taking another's bag by mistake, and later returning it. "Of course, there may be occasions where the bag is not returned," he accepted.
Not every complaint made to police regarding missing luggage was an incidence of theft, argued Inspector D.M.C Ratnakumara, Acting OIC of Airport Police. Sometimes, bags that had initially been reported as stolen, were located in the lost-and-found section. In other instances, bags reported stolen at the BIA are, in fact, stolen outside the airport perimeter. Police also use CCTV footage to track down perpetrators.
"Ground handling operations at the BIA are conducted by SriLankan Airlines. The responsibility and liability for passenger baggage, however, rests with the airline doing the ticketing," said SriLankan Airlines Media Development Manager Deepal Perera.
"Annually, less than 0.12% of passenger bags are "mishandled" at the BIA, while a majority of these (around 90%) were resolved successfully," Mr Perera said, citing data from WorldTracer–a global system for tracking and matching airline baggage.
"It takes about 10 to 15 minutes to unload a bag from the aircraft to the conveyer belt. There are between 150 and 250 bags in a small aircraft, which goes up to between 350 and 450 bags in a wide-body aircraft, all of which must be cleared within 45 minutes. Hence, it is near impossible for any luggage theft to take place during this period, given the time constraints involved and the security measures that are in place," Mr Perera said.
The ARRIVAL terminal was bustling from 4 am to 6 am with over 15 flights landing during this window on any given day. "We have large crowds at the airport during this time, and people tend to get distracted," a BIA employee said, requesting anonymity. "Bags can easily go missing outside the terminal during this time. Sometimes, people take bags by mistake, but there are some who deliberately do it. Passengers need to be mindful."