Royal turn tables to win an absolute thriller
By Aubrey Kuruppu
Underdogs become top-dogs as Thomians collapse on Day 3
View(s):
A resolute Royal team which was battered on day one, came back strongly on the third to score a seemingly impossible four wicket win over S. Thomas' in their 137th Big Match at the SSC grounds. A team that had scored 350 for 5 in the first innings was rolled over for a paltry 127 in their second essay. Careless batting and a confusing batting order combined to cause their rout.
At the end, which came at 6.10 p.m. there was no headlong rush to victory. It seemed a case of meandering towards their target. Probably Malith Kariyawasam knew that overs were on his side but the light had faded. Some of the scenes were bewildering and bizarre.
This is Royal's second win in four years, after Devin Pathmanathan's side beat the Old Enemy in 2013.When Royal started their pursuit of a 150 run target in 49 overs, one expected pure, unadulterated aggression. Naveen Vidanapathirana provided it early on by playing a few scintillating shots. With his dismissal, there seemed to be a run crawl. The Thomian tactics were strange. A lot of pace was employed. It may have been in an effort to use up time. Funnily enough, Royal seemed content to follow the Thomian lead. Sooriyabandara was among the runs once again but he lacked fluency.
Skipper Geeshath Panditharatne hastened matters after his advent. In tandem with Kariyawasam, he pushed the score along at a more acceptable rate. He scored a brisk 19 before swinging wildly at Tillekaratne and losing both his bat and his wicket.
Kariyawasam together with Helitha Vithanage stood tall in the last half hour or so to keep the team on course. When the winning run eventually came there was a sense of relief that this confusing, even strange game had come to an end.
Pasindu Sooriyabandara, 97 not out overnight, took a mere two balls to become at 16, the youngest Big Match centurion. The first ball of the day was played off his pads for two. The next was dabbed through the untenanted gully area to the boundary.
There weren't too many frills and fancy shots in his innings. Concentration, movement of the feet and precise timing were the hall marks of his batsmanship. He added 58 for the eighth wicket with Vithanage.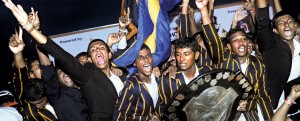 The Thomians made a bit of a meal of their second innings. From the start the batting was a little airy-fairy. First innings hero Rashmika Opatha started with a lovely back foot force for four. The he swished wildly and collected a top edged four to third man. Inexplicably, he then tamely drove Ramanayake to extra cover to get caught.
The Thomian contrived to lose wickets through faulty shot making. In no time, they found that they had lost five wickets for 60 runs in 17 overs by lunch. Quite apart from the approach, the batting order was bewildering. Their prized possession, Sachitha Jayatilleke came in at eight, followed at nine by Dilendra Gunatilleke.
Things got curioser and curioser. The damage was too deep seated. There was no way back even though Shenal de Silva batted with admirable sense and composure for his unbeaten 28. In fact, the last pair consumed 58balls. A telling indictment on some of the others who came and went.
Ramanayake was the primary agent of destruction. He bowled a good off stump line and the batsmen did the rest. Embuldeniya sealed up one end with his tantalising left arm spin.

Scoreboard
S. Thomas' 1st innings 350-5 declared (Yohan Mendis 64, Rashmika Opatha 124)
Royal 1st Innings (280 for 7 contd)
Pasindu Sooriyabandara b Kodituwakku 123
(Stretched forward to flighted off break: bowled)
Helitha Vithanage c Nallaperuma b B. de Silva 23
(Attempted pull – top edged to mid on)
Himesh Ramanayake not out 0
Extras: (8 byes, 1 leg bye, no balls 8, wides 3) 20
Total: (116 overs, 489 mts, for 9 dec) 328
Fall: 7th 263, 322, 328.
Bowling: S. Jayatilleke 22-8-30-1; R.Opatha 14-4-48-0; S. de Silva 11-4-14-1; H. Liyanarachchi 13-3-44-2; R. Tillekeratne 17-1-50-0; R. Kodituwakku 8-2-33-1; Y. Perera 16-5-47-3; D. Pieris 15-3-53-1.
S. Thomas' 2nd Innings
Yohan Mendis b Ramanayake 18
(Defensive jab – open blade – ball trickled to off stump)
Rushmika Opatha c Panditharatne b Ramanayake 8
(Soft dismissal – pushed to extra cover)
Ravindu Kodituwakku c Dhanapala b Vithanage 6
(Drove at delivery – inside edge to keeper)
Yohan Perera c Kariyawasam b Hettiarachchi 7
(Cut short, slightly high ball to point)
Delon Pieris b Ramanayake 22
(Shuffled too far across and exposed leg stump)
Ravindu Tillekeratne c Hettiarachchi b Embuldeniya 6
(Tame drive into hands of mid off)
Romesh Nallaperuma c Vithanage b Sandeepa 12
(Lost patience – came out, drove to mid off)
Sachita Jayatilleke lbw b Embuldeniya 2
(Pushed half forward – struck on pad)
Dilendra Gunatilleke c Jayawardena b Ramanayake 6
(Sketchy looking cut to short ball –
ended at first slip)
Shenal de Silva not out 28
Hansaka Liyanarachchi c Vidanapathirana
b Hettiarachchi 4
(Didn't get behind rising ball – edged to second slip)
Total (in 45.5 overs, 199 mts) 127
Fall – 17, 26, 33, 44, 51, 69, 73, 84, 108, 127
Bowling: H.Ramanayake 13-1-64-4; H. Vithanage 7-1-23-1; L. Embuldeniya 17-7-21-2; D. Hettiarachchi 2.5-0-7-2; G. Sandeepa 6-3-7-1.
Royal Second Innings
Naveen Vidanapathirana c Mendis b Jayatilleke 29
(Back cut, brilliantly caught diving forward)
Roanuka Jayawardena lbw de Silva 0
(Played slightly across straight one)
Pasindu Sooriya Bandara c Gunatilleke
b Liyanarachchi 28
(Played at rising delivery and knicked)
Tiran Dhanapala c Gunatilleke b Opatha 10
(Got a tickle to good length ball on off stump)
Malith Kariyawasam not out 38
Geesath Panditharatne b Tillekeratne 19
(Attempted sweep – missed –
bat flew out of his hands)
Helitha Vithanage c Mendis b Jayatilleke 6
Gamith Sandeep not out 14
Total (for 6 wkts in 31 overs) 150
Extras: (byes, 169 mts) 5
Bowling: Shenal de Silva 4-0-29-1; Harshaka Liyanarachchi 6-0-35-1; Yohan Perera 1-0-9-0; Sachita Jayatilleke 7-0-39-2; Delon Pieris 1-0-2-0; Rashmika Opatha 8-0-32-1; Ravindu Tillekeratne 3-0-11-1