Lanka entrepreneur in pioneering effort uses eco-friendly bamboo to make gift boxes
By Quintus Perera
View(s):
Before 2013, cutting down bamboo trees and its transportation in Sri Lanka was permitted only with a licence. However under a UNIDO Bamboo Processing project for Sri Lanka these rules were relaxed and a 10,000 hectare bamboo plantation was initiated in September 2013. By 2019, 150,000 tonnes would be grown which would also produce 113 megawatts of electricity using bamboo by the same year. Bamboo which is completely natural, could replace synthetic plastic, in some cases, even though plastics is now considered to be an essential component of human life though an environmental menace.
Using this natural resource – bamboo – one enterprising Sri Lankan is turning out gift tea boxes, a pioneering effort, which is now expanding to a big industry. The Business Times (BT) recently met entrepreneur Tyrone Fernando at his residence at the Raddolugama Housing Scheme, Seeduwa, where he
explained about his dream project using green bamboo. He told the BT that he has begun making gift tea boxes purely out of green bamboo for the first time in Sri Lanka. A pioneering effort, these bixes are now in big demand by value added tea exporters leading to Mr. Fernando putting up a factory in Opaatha, Katugoda. Once the machines are installed in the next month, at full capacity 1,000 boxes per day could be manufactured.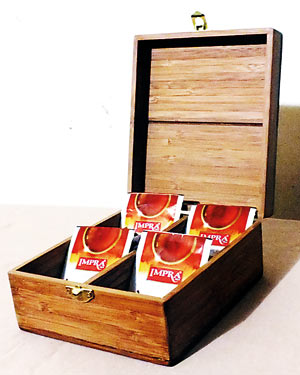 As a woodcrafts expert, he got the idea of using bamboo, while working as the Factory Manager at T Wood Pvt Ltd, a sister company of now defunct Touchwood PLC which specialized in manufacturing bamboo flooring.
Mr, Fernando is an old boy of St Mary's College, Negombo and a BSc graduate of the Kelaniya University . One of his areas of study was Industrial Management. After his university studies, he joined several companies in different capacities as Production Manager, Production Engineer and Factory Manager.
He was able to get experience in woodwork only when he joined Lispo (Pvt) Ltd at the Ekala Industrial Estate where Lispo was manufacturing wooden trophies for the export market. He says he also gained experience when he joined Timber Concept (Pvt) Ltd, a sister company of MJF Group (Dilmah), the pioneer pure Ceylon Tea exporter.
In 2013, Mr. Fernando began his own wood based manufacturing producing picture frames with treated rubber wood in such textures as antique, rustic and vintage which is also a pioneering venture in Sri Lanka. He is now marketing around 2,000 of these unique wooden picture frames across the country.
The picture frames are of different sizes but the bamboo gift tea boxes are of attractive sizes that could be kept on tables and ideally portable. They come in two sizes with the small box measuring 150x94x80 milimetre and priced at little more than Rs. 500.In his venture in manufacturing the bamboo gift tea boxes, the capital investment is shared with the owner of Amto Toys (toy exporters) Dharshana Ambegoda.
The treated rubber wood picture frames and the latest pioneering bamboo gift tea boxes, he says, are stronger and life-time long lasting, compared to other similar products turned out with MDF and plastics. All his products, he said are branded as 'Dathri', a Sanskrit word meaning 'Mother's Care'.
He also manufactures spectacle boxes out of treated rubber wood which is very handy and for their different attractive textures and durability, Mr. Fernando says, adding that market is also expanding.