Indira Malwatte, first female Chairperson of EDB
View(s):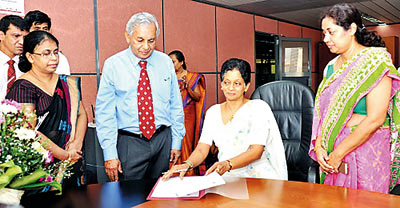 Indira Malwatte on Thursday was appointed Chairperson and CEO of the Sri Lanka Export Development Board (EDB), the first woman to hold this position.
"I am very confident of making a positive contribution to the export effort of our country," she said soon after assuming office in Colombo. She earlier worked at the EDB, ending a 25-year career in 2006 as Project Management Division Director.Ms. Malwatte, a product of Visakha Vidyalaya and the University of Peradeniya, has served as the focal point on a number of World Bank, ITC, GIZ, CBI and JETRO export development projects as well as in a number of Government and private sector boards undertaking several product development and export related consultancies.