Police one-way mantra a one-day wonder of unprecedented gridlock
By Kasun Warakapitiya
Commuters taken for a ride, end up trekking long distances as buses go off-route
View(s):
A day after police claimed a one-way traffic plan implemented between Welikada junction and Horton Place roundabout was a success, complaints from motorists and the public—not to mention clogged roads—forced its suspension.
Deputy Inspector General (DIG) of Police (Traffic Control and Road Safety) Amarasiri Senaratne insisted the uniflow system introduced this week had gone off well, despite chaos on Monday morning as hundreds of vehicles were trapped in a gridlock trying to enter Colombo from the Parliament side across Welikada junction.
The jams were the result of a hurriedly-announced one-way traffic scheme which was introduced after a short trial run. Some motorists were aware of the plan from the weekend newspapers or television and radio news on Sunday, while others were caught unawares.
Road Development Authority (RDA) Chairman, Prof Saman Bandara said the system was destined to fail. "It's simple traffic theory," he said.
"There is no way traffic that previously went on six lanes can be accommodated in two lanes. It's simple arithmetic."Prof Bandara revealed that he had telephoned the police and let them know of his concerns. "They didn't consult us regarding this," he said. "I came to know through the newspapers and gave them a call."
Vehicles leaving Colombo city were instructed to turn from Cinnamon Gardens (Kurundu Watta) to Independence Square, pass the Sports Ministry grounds and Maitland Crescent into Gregory's Road and Cemetery (Kanatta) junction, and via Devi Balika, Ayurveda and Welikada junctions towards Parliament.
Motorists who were stuck in traffic said those entering Colombo from Welikada were at first relieved when they noticed they could use six lanes of the road instead of the usual three lanes (which is what the traffic plan had introduced). Their delight was short lived.
From Ayurveda junction onwards, vehicles were crammed into three lanes. And less than 300 metres away, after Devi Balika junction, they were forced to make way for traffic coming from Cemetery junction.
After another 200 metres, they had to give way to traffic at Senanayake junction, which cuts across the Baseline-Narahenpita road.
Thereafter, every 200 metres, motorists trying to reach Colombo were forced to give way at the main junctions up to Cinnamon Gardens.
Those going in the opposite direction had similar problems, as they, too, had to give way to vehicles coming from crossroads.
The plan caused howls of protest, particularly on social media. Road.lk, which has a web application that publishes real-time traffic updates from frustrated motorists, recorded scores of tweets on Monday.
One user said, "A moment of silence to the new traffic plan implemented by Police!" He added that congestion was a lot worse than on other days and that he was already 1 hour 15 minutes late for work. Another read, "Rajagiriya is a nightmare today.
Unmoving traffic as far as the eye can see." A third user castigated the traffic police, saying they don't know what they are doing, and that, "heavy traffic occurred during new plan".
Road.lk itself tweeted, "Yes, long walks to bus stops is the new order." Prof Bandara agreed that bus commuters were severely inconvenienced.
"Bus commuters will have lot of walking to do as detours from original routes increasing distances between bus halts," he explained.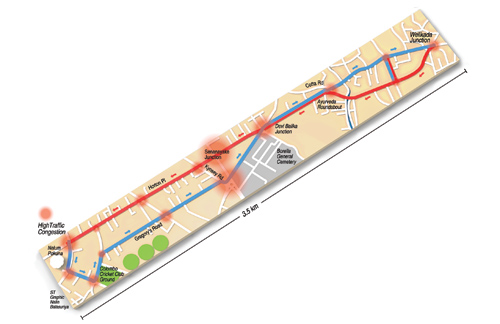 "Unlike on Galle Road or Duplication Road where bus halts are at intervals of of 200 to 300 metres, here they are required to walk more than 400 metres. The inconvenience to bus transport has to be given priority."
Prof Bandara added that he was not in favour of the new traffic plan, "under those circumstances". He revealed that a fresh scheme had been devised for Maharagama, for which there had been prior discussions with the relevant authorities, including the RDA.
"Certain modifications were done in Maharagama but there, we looked at all the possibilities including how to accommodate pedestrians and bus commuters," he explained.
"There was a logic to it."The plan for Maharagama was four lanes for vehicles entering Colombo and two lanes for those traveling towards Homagama.
Efforts have now been made to balance the two with three lanes for each, which will stay.
Other experts say traffic plans, regardless of where they are implemented, have limited benefits. "For decades, a few people have been saying this will happen, that we are going in for a gridlock," said Transport specialist, university Don and Board member of the National Transport Commission, Amal Kumarage. "We are there now and it has become a talking point.
Obviously, we did not listen to those prophetic voices. There is a price to pay for not having got ready for it."
Prof Kumarage said planners and implementers must espouse "not just superficial, short-term remedies but a fix, once and for all". "This is not a battle we need to win for today, but a war we need to finish forever," he continued.
Traffic plans will "work for a particular situation and location at a particular time, nothing more".
"Traffic is fluid," he elaborated. "You solve one problem and it migrates to the next junction. People were waxing eloquent about the one-way system in Kollupitiya, but now what has happened? It is not sustainable."
Like many others, Prof Kumarage backed a two-pronged strategy. One was the "economic pricing of limited resources"—that is, the introduction of tolls. "Roads are limited," he said.
"We cannot increase capacity in the short term. In cities, capacity cannot be increased even in the long-term. Therefore, economic pricing is the answer."
The charges could change by hour, location, vehicle type, time of day, etcetera. "We can manage congestion as it occurs," Prof Kumarage said.
This cannot be done unless people had viable alternatives such as good public transport. Many countries are now investing in high quality, modern, urban transport solutions.
"If we are to present a viable choice for somebody with a car, not to use it, there must be an acceptable alternative," Prof Kumarage said. "Otherwise, he will take the car anyway and pay the toll."
Limited roads, unlimited vehicles and one-way minded police
Police are concerned with increasing traffic congestion and are trying their utmost to keep vehicles moving while minimising accidents, said Deputy Inspector General (DIG) of Police (Traffic Control and Road Safety), Amarasiri Senaratne. Recently, the sheer number of vehicles has resulted in road congestion.
The one-way scheme between Cinnamon Gardens (Kurundu Watta) and Welikada junction was temporarily stopped due to increased traffic on surrounding routes, he said. The plan had helped cut congestion on one-way roads.
But vehicles entering from side roads and those joining Baseline Road from Orugodawatte and Narahenita, had increased traffic on surrounding roads.
The increase in vehicles had caused road congestion to worsen faster than before. The police needed a plan for Cinnamon Gardens and Welikada Road. "We implement systems to minimize traffic," he lamented.
"Despite our efforts, traffic is high due to lack of driver ethics and road space." The plan was stopped till a new plan was drawn up through consultation.
Members of the public, particularly those who were "victims" of this week's experiment, had their own suggestions. Chaminda Ratnayake from Gothatuwa usually drives his daughter to Devi Balika Vidyalaya in Borella.
He felt temporary solutions were not the answer. Traffic plans would not make a significant difference.
"All vehicles must be given equal importance as there are offices outside of Colombo, too," Mr Rathnayake asserted. "Police were trying to clear the road for vehicles entering the city while keeping the others at bay.
School vans and parents taking children to schools via crossroads had to wait a long time until the man roads were clear."
K.C.S. Perera, a school van driver parked near Devi Balika said he saw the difficulties of those driving towards Cinnamon Gardens. The traffic plan had made the situation worse. "As a driver, I know the hardships," he recounted.
"Six lanes were narrowed down to two lanes at one location. There was a bottleneck at Devi Balika. A huge traffic block was created as vehicles going to Horton Place had to give way to those going towards Welikada."
D. Gunawardena said he had not seen such a traffic management plan in 20 years of driving. "From day one, the system was a flop," he concluded. "Overhead bridges or cutting vehicle numbers through the imposition of taxes were sensible ways of controlling congestion" he said.
"This system is absurd," said Jayantha Padmasiri, another motorist. "Drivers struggled to squeeze through, burning extra fuel. Side roads were unavailable and they had to drive longer."
Ajith Prasanna travels everyday to work on Rajagiriya Road. He saw less traffic on the one-way routes, but connecting roads were clogged.
Mayurnaga Ellage, a driver for a private company, was late for work due to the traffic plan. The journey usually lasted just 1 hour and 15 minutes, but it took him nearly two hours to reach office on Monday.
"Traffic jams usually form at junctions, roundabouts, crossroads, traffic lights, entrances to main roads and police signal points," said B.G. Jirasinghe, a former Senior Supervising Examiner of Motor Vehicles.
"Delays are caused due to vehicles piling up in long queues in parallel lines, while motorcyclists and three-wheelers creep through gaps and make it worse," he said.
Former DIG (Traffic Administration and Road Safety), Camillus Abeygoonewardena said vehicle management was not "diverting traffic from one place to another."
He suggested the setting up of a Traffic Authority under the Prime Minister, comprised the police, Highways and Transport Ministries, the Urban Development Authority and representatives of public and private sector transport.