Save your children from preventable accidents
By Anushiya Sathisraja
View(s):
The fourth leading cause of death among children below the age of five, is accidents, a senior official of the Family Health Bureau told the Sunday Times, while stressing these were preventable fatalities. These accidents include road accidents, home injuries and drowning.
Around 600 children die of these various accidents annually, while around 270,000 are hospitalised, said Dr. Kapila Jayaratne, Consultant Community Physician- Maternal and Child and Mortality Surveillance of the Family Health Bureau.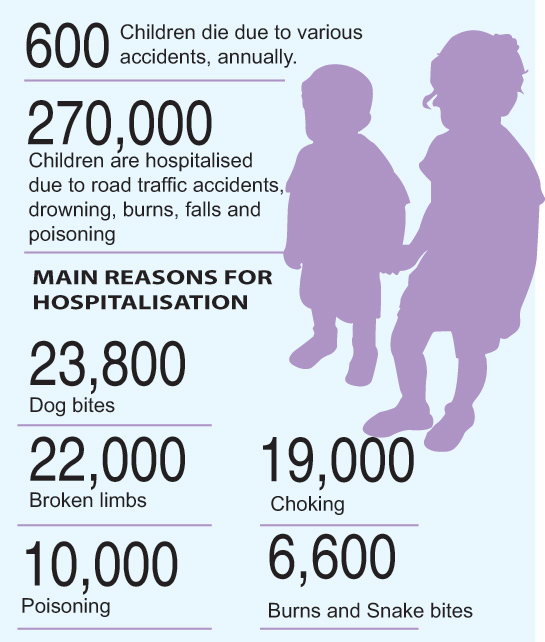 "Children are vulnerable to accidents because of their inexperience and natural curiosity," he said.
Giving a more detailed breakdown, he said, of the 2,500 who die every year in road accidents, 250 of them are children. In 2012 of the 774 pedestrians who met their end in road accidents, 63 of them were children.
In 2012, 23,800 children were admitted to hospitals for dog bite, 22,000 with broken limbs, 10,000 from poisoning; 19,000 from choking and 6,600 suffering from burn injuries and snake bite, he said.
Dr. Jayaratne said according to a study conducted by the Lady Ridgeway Children's Hospital (LRH) home accidents made up 56 percent of all injuries among children and road accidents eight per cent.
In 2009 the Infant Mortality Rate (IMR) in Sri Lanka was 9.7 percent and by 2010 it had gone up to 12.2 percent.
"For every 100,000 children, 12 die annually of injuries before they reach the age of 16. Each year a whopping Rs. 1,107 million is spent to treat these injuries. However, the tragedy is that 99% of these accidents are avoidable, the doctor pointed out.
Senior Paediatrics professor of Colombo University Dr. Harendra de Silva, said, while road accidents is the leading cause of injury and deaths in the country, in the case of children, drowning, known as the 'silent killer' claimed the most number of lives.
 600 die annually in road 

accidents, home injuries and drowning

 Inexperience, natural 

curiosity make children 

vulnerable: Expert
Children are attracted to water bodies such as rivers, lakes and the sea as they are associated with fun and adventure, he said stressing that parents and other elders should be vigilant when children take a dip in the water.
Commenting on road accidents and safety measures that should be followed, he said, parents should refrain from travelling on motorcycles with children less than two years.
"Law enforcement officers invariably turn a blind eye to a serious violation of the Motor Traffic Act where adults risk the lives of their underage children," Dr. de Silva said.
Elaborating on home accidents, he said parents should be extra vigilant when children enter the kitchen area. They could be exposed to the risk of flames from the cooker and sharp objects such as knives he said.
Stressing the importance of keeping kerosene, one of the most common agents of poisoning and other household detergents away from children, Dr. de Silva said unfortunately most of these poisonous liquids were bright hued and that attracted children.
Meanwhile the UNICEF, for the past two years, has been playing a key role by supporting the Health Ministry in conducting injury-prevention programmes. The organisation also works with the Sri Lanka Medical Association to raise awareness through symposiums.
The UNICEF also supports child injury awareness programmes that are being conducted in six districts. House-to-house visits, street dramas, focus group discussions, community briefings, and other communication material are being used to create awareness and to mobilise the community on the need to prevent and protect children from injuries.
To date some areas have formed village level committees involving about 50, 000 people.
Infant swallowed up by fish tank
An infant died, yesterday, after falling into a fish tank in a house at Panawella, Kahawatta, police said.
The child who was one year and two months old was at a relative's home when the freak accident occurred according to police.
Police said the child's grandparents were at the premises but they had not seen the child falling.
According to the UNICEF, worldwide, 950, 000 children under the age of 18 die each year of various preventable accidents. More than 95 percent of child injury deaths occur in low and middle income countries.