Meticulous planning, ruthless execution net Rs 5.5 m sampath for a robber
By Damith Wickremasekara
View(s):
Last Sunday's bank robbery at Dharmapala Mawatha Colombo 7 lasted just two minutes, indicating the robbery was meticulously planned by the lone robber who got away with Rs 5.5 million, an officer involved in the investigations said.
As the hunt was on for the robber, a week after the incident, CCTV footage from cameras fitted in private buildings, as well those installed at central locations by the police, were being scrutinized for clues to identify the suspect.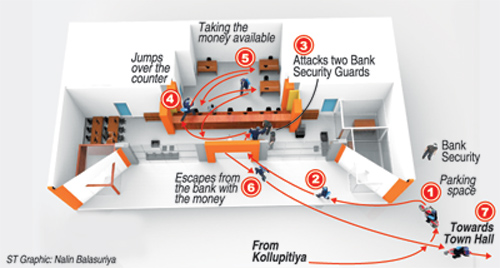 The robber, around five feet in height, arrived at the main entrance of the bank which operates additional banking hours even on Poya days, shortly after the bank opened for business. Some 10 staff members backed by three unarmed security personnel were on duty.
Slave Island Police- Crimes Division Officer-in-Charge (OIC), Inspector of Police (IP) Nalaka Gunasekara told the Sunday Times that, usually, on a normal working day, the bank draws out more cash for transactions, but being a Sunday cum Poya day, they had taken out only Rs 6 million.
Just at the main entrance, the robber had been stopped by the security guard who ordered that he remove his helmet, in keeping with the practice followed by almost all banks to ensure no persons with helmets get into the building.
"The robber had pushed the security guard while pulling out a weapon from his pocket. In the process the magazine of the weapon had fallen off, but he had managed to pick it up and re-fix it," the officer explained.
"He had jumped over the counter, ordered the staff to remain in their positions and reached the table on which the money just taken out for transactions, had been placed," the officer added.
Making matters easier for the robber was Rs 5.5 million of the cash being in Rs 5,000 notes, with only Rs 500,000 in Rs 500 notes- a total of 2,000 notes.
Then a bank officer set off the alarm forcing the robber to hasten his departure, leaving behind another Rs 500,000 taken out for transactions.
CCTV footage shows the robber escaping unchallenged towards Town Hall, but had evaded the Lipton Circus roundabout which is fitted with CCTV cameras.
Police investigations are continuing. More than 15 instances of persons wearing full face helmets robbing banks and financial institutions during the past one-and-half-years have been reported.