'March 12 Movement' grand finale tomorrow at Viharamahadevi Park
View(s):

The 'March 12 Movement', a mission to elect clean and corruption-free politicians to Parliament, will conclude tomorrow at the Viharamahadevi Park, after its 10-day programme around the country.

The Movement, to obtain 1 million signatures from the public, in a bid to encourage political parties to avoid giving nominations to corrupt individuals, was initiated by People's Action for Free and Fair Elections (PAFFREL) and supported by Transparency International, Sarvodaya Movement, Sri Lanka Chamber of Commerce, Sri Lanka Administrative Officers' Association and trade unions.

It was developed from the March 12 Declaration approved by the President, Prime Minister and a large number of political parties, and contained eight criteria to be included in the proposed code of conduct for politicians, as part of the Government's 100-Day programme. The declaration was launched by the PAFFREL on March 12 this year at the BMICH.

The collection of signatures commenced at the Independence Square on June 25, and was joined by a large group of politicians, scholars, members of the Maha Sangha Sabha and the public. The movement covered many cities including Kurunegala, Mannar, Jaffna, Ampara, Badulla, Mahiyangana where the Adhivasi Leader also signed declaring his support for the movement, Ratnapura, Matara and Moratuwa.

The event included an educational programme to make the public aware of how to choose the candidate they wish to vote for, distribution of leaflets with election oriented information and street dramas. Stating that, "if the political leaders fail to keep their word, we will organise people against them," PAFFREL Executive Director Rohana Hettiarachchi said the event was successfully established around the country.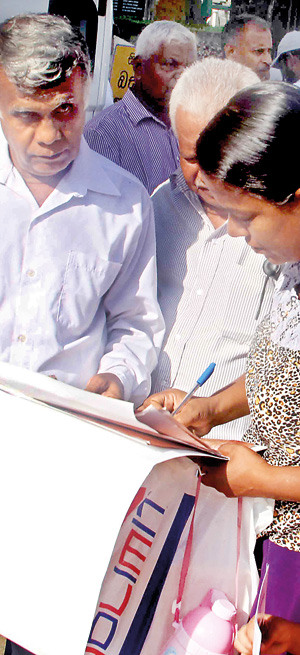 "For about two years the PAFFREL has been discussing with experts about the conduct of politicians, and developed a declaration with eight criteria. After launching it at the BMICH on March 12, we decided to take it to the public and get their support to pressure politicians into carrying them out," said the PAFFREL media coordinator, Gihan Wickramasinghe.
"This is a very important movement and we would like to invite all citizens to the concluding event (tomorrow) and support it," Mr Hettiarachchi said.
The signed petition will be handed over to the public and politicians during the event.