Many ways to fix a meter but the end could be near
By Anushiya Sathisraja
Trials started for testing electronic meters for all trishaws
View(s):
Electronic meters will be mandatory for all three-wheelers shortly and steps will be taken to ensure they are maintained to the required standard given the numerous frauds being perpetrated.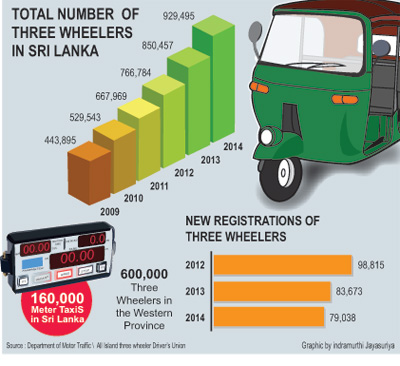 None of the meters currently in use have been approved by the Measurements Units Standards and Service Department (MUSSD) because there is no means of verifying the accuracy of the readings, MUSSD Acting Director K. Premasiri Kumara said.
"There are several kinds of electronic meters being used by the drivers and some of them can be manipulated," Mr. Kumara said."We want all meters to be brought to be one standard." He said the MUSSD has two new taxi-meter testing machines that are being trialled for effectiveness with the guidance of the Department of Motor Traffic.
All-Island Three-Wheeler Drivers Union President Lalith Dharmasekara detailed several ways in which drivers could fraudulently manipulate their meters and pointed out that customers had no government body to which to take complaints. They could only complain to taxi companies and this would only be useful if the companies set up offices to handle and investigate complaints.
One popular trick was, once a meter PIN number has been decoded, to have the meter show longer distances being travelled than is actually the case. For example, meters could be fixed so that 700m was shown as 1km, Mr. Dharmasekera said.
Drivers could also manipulate meters even without technical assistance. Some drivers adjust the time settings of the meters so that 5pm reads as 5am, thus taking advantage of the extra Rs. 15 rate increase between 10 pm and 5am for the whole day, he said.
Three-wheelers have a "sensor line" wire connected to the engine that reads the speed rate of the vehicle. Mr. Dharmasekera said drivers could connect another wire to the sensor line from the headlight so the combined electric spark from both the headlight and the engine caused the meter to give a higher speed reading which in turn gave a higher distance reading and hence a higher fare.
He noted that of the 900,000 three-wheelers in the country only 160,000 use meters. The Link Lanka Company, which designs the majority of taxi meters, rejected the suggestion that its digital meter software could be easily manipulated."Our system uses a PIN-number based system where a new PIN has to be generated each time when someone wants access to change the meter settings", Link Lanka chief Thushara Kariyakarawana said.
"We also hold copyrights for this software. No-one can validate the PIN on their own," Mr. Kariyakarawana said. "Even to change the time, they need to obtain a special PIN number." Gamini Rupasinghe, 55, a trishaw driver at Ramanayake Mawatha, said that making meters mandatory would be the best decision the government made.
He said it was difficult for most drivers to tamper with the meter. "Trishaw drivers can only change the time of the meter – it is hard to manipulate the meter," he said. Another trishaw driver, 40-year-old Ramesh Nadarajah, however, said drivers of metered three-wheelers freely deceived customers in the absence of regulations. He also said drivers would find it expensive to replace meters when the new laws were brought in,
"Daily, we only get a maximum of Rs. 1500 as income and Rs. 300 of that would go for a half a day's petrol," he said. "I have two school-going children and I need to spend for their routine expenses," Mr. Nadarajah said."At this standard of living, how can we afford to fix a new meter?"
Nishanth Thiyagaraja, 25, a resident of Modera, is accustomed to being cheated by some drivers on his regular journey to work.
"As I'm a working person, I use metered three-wheelers to go to work not only because they are cheaper, it is also to avoid the hassle of bargaining and explaining the route," he said.
"But drivers give feeble excuses that the meter is broken or is not functioning properly," he said, was adding that some drove slowly even when there was no traffic and that this increased the charge. The Transport Ministry and the National Transport Commission (NTC) is yet to take action to regulate three-wheelers. The police can take action against three-wheeler drivers for violating traffic rules but the law does not give them licence to take action over fares.