The best 'Biriyani Sawan' at Galadari
View(s):

The Galadari Hotel's Café 64 should be the first place on every 'Biriyani' lovers' mind, for the most mouthwatering 'Biriyani Sawan' choices in mutton, beef or chicken.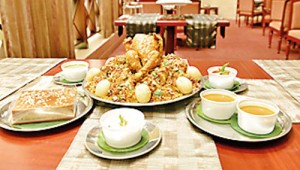 Experience authentic and flavorful 'Biriyani Sawan' with the best of accompaniments including 'Minchi Sambol, 'Pickle', 'Raita Salad' and 'Chicken Gravy', also includes the signature dessert 'Wattalappan'.
The Café 64 is well known for its decadent choice of desserts and the famous 'Wattalappan' is no different. The 'Biriyani Sawan' comes with a very generous serving of 'Wattalappan' which is the dessert choice most suitable to accompany this sumptuous 'Biriyani'.
A 'Biriyani Sawan' is sufficient for 8 persons and includes 8 eggs, a delicious whole 'Masala Fried Chicken' as well as 8 large pieces of chicken separately mixed with the rice. Pick-up times are from 11.00 am to 7.00 pm and orders must be given 3 hours prior from the required time.
Now is the time for all 'Biriyani' loving fans to make the maximum of this fabulous offering, fit for any party or family gathering. Come and enjoy our spectacular 'Biriyani Sawan' a gastronomical journey well worth experiencing.