Disappointed Vaas feels belittled
By S.R. Pathiravithana
View(s):
Chaminda Vaas, Sri Lanka's best exponent of the new ball all time, feels that he has bid adieu to his association with the game in his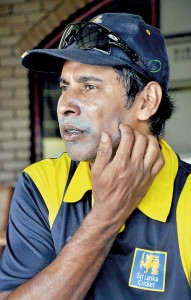 motherland.
Vaas told the Sunday Times: "I met the SLC officials on Thursday, but we could not agree on the content of what transpired at that meeting." He said he felt belittled by the SLC Interim Committee offer.
"At the meeting they told me that I would have to move from the national team to the under 19 team, and I was not unhappy. I said I would take up an opportunity to serve my country at any level. But, at that point they told me that my emoluments would be slashed. I felt that was unethical.Just because a man is shifted from one task to another his earnings do not come down. So we decided to part our ways amicably," Vaas said.
However, the Sunday Times learns that Vaas was disappointed with the action of the Sri Lankan head coach Marvan Atapattu. He said no one complaint about his coaching skills prior to the appointment of Atapattu. Till that point Sri Lankan cricket was on an ascent winning the Bangladesh series, the Asia Cup and the ICC T-20 World Championships. Then Sri Lanka also won the series in England and it were the fast bowlers who performed well in the Test series which Sri Lanka won for the first time.
Vaas feels that the SLC should have given a hearing to his side of the story instead of taking hasty action against a report made against him. He said: "The World Cup is a batting-oriented tournament and most bowling attacks went for over 300 runs in an inning more than once. Yet, the Pakistani bowling coach or the West Indian bowling coach was not sacked."