Portugal's Rui Machado dazzles Colombo
ITF-Futures Tennis 2015
View(s):
With dazzling speed, telling power and limitless fluent strokes Portugal's former number 1, Rui Machado, currently ranked 270 in the world, left the field of 32 standing twice to win the first two legs of the ITF-Futures in Colombo. This standard of Tennis has not been seen in Colombo for a while. Most of the 32 in the main draw are from the top one thousand of the ATP world ranking. Every match produced Tennis well above the standard of local finals we have seen in recent times.
Machado's extraordinary game making ability with mature tactics and his inherent competition culture makes him a good study to any 'would-be' Tennis player. Machado has a record of taking a set off Roger Federer when he was higher up in the ranking in 2012. So, his appearance in Colombo to play the ITF Futures, a grass-root level professional event, needs an explanation.
Machado was ranked 59 in 2012
30 year old Machado's best years were 2011 to 2013. During this time he has taken Spain's Vadasco, Argentinean Del Potro and Switzerland's Roger Federer to the full length in matches. Knee injury took him out of the big ATP events. He has recovered well and if all goes well, we will see him in big events soon. His appearance in Colombo is to get warm up matches because February is a month without many ATP challengers or big purse events. Machado won the second leg of the $10,000 event last Sunday beating Serbian Mijan Zemic in straight sets. Up to date Machoado has won all his matches in the last two weeks without dropping a set.
Machado was Portugal's best player and has been pushed to the second place by his good friend 25 year old Joao Sousa currently ranked 45 in the world. In 2012 Machado played all four Grand-Slams – Australian-Open, French-Open, Wimbledon and the US-Open. He is also a Davis-Cup player for Portugal.
Machado's modern game
The game he plays matches any top ten player's game in effectiveness. If all goes well for him this year, he will challenge the top players again. What tires his opponents is his capacity to accommodate more the than two shots a seconds, when the game goes into rapids. He is comfortable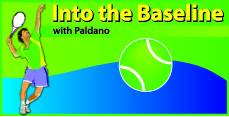 doing that and never too tired to come back from bad spots. He is capable of achieving 70 percent consistent 'first serves' and his 'returns' are punishing. Any player coming through that kind of an assault in the first four shots of the rally will then face the power of his ground strokes which has very heavy spin for control and powered for length and penetration. What more, he has a canny ability to cover the court by positioning himself extremely well. He is also a fluid and a tireless mover. Most of his opponents were burnt out by the middle of the second set, just trying to keep up with him. On all accounts, Machado is an effective and a pleasing player to watch.
His 2012 record of entering all four Grand-Slams on merit, talks of his ability as a sportsperson. He and Sousa are the best players Portugal has produced up to now. Machado was educated in Spain and opted to play Tennis after being selected to do a degree in Economics. He is well informed of our history and was able to state when Portuguese arrived in Sri Lanka and the year 'Colombo' as a city came to being under their rule.
George Paldano, former international player; Accredited Coach of Germany, ITF and USPTR; National, Davis Cup and Federation Cup Coach –
gptennis.ceylon@gmail.com