Have we been over valuing and over paying Fiji players?
View(s):

Who's dumb in Sri Lanka Rugby? Is it the players, coaches, administrators, supporters or spectators? Some are born dumb while others prefer to be dumb. It is easy to sit in high places and not displease anybody. I stood dumb but would have preferred to be deaf when council members and rugby stalwarts commented that there are very few who are capable and or willing to come forward to replace and take positions in the council.
This statement was in the wake of the Annual General Meeting. This is damning when you consider that Sri Lanka has a rugby history of over 125 years. Should the blame be on the council members who should lead for others to follow? Just as much as you need leaders you also need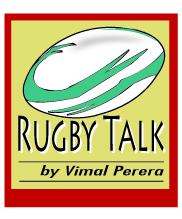 some to take the paddle and row.
If there is a lack of succession and or an inability to attract quality the responsibility is with the stakeholders who are represented in the council. The hackneyed phrase that there was politics does not hold ground because you were there in the council and possibly preferred the way things were done and by whoever did it. Don't talk about the present lot and pose dumb questions if you are not willing to row the boat. Sorry this is my thinking! What is yours?
Are we not dumb when we think that we have gained by foreigners playing in Sri Lanka. Have they attracted crowds through better rugby? Of course not; because they could not perform, because the referees were not good? Is possibly the answer you will get? I was told of a foreign player who was asked to come back to his country for National Duty but decided to stay back and play for his club and not take wing to play in the World Rugby Sevens. When asked the reason the answer had been "I get paid for two month. This is what I would get in a year in my country."
The December 14, 2014, Daily Mail reports that Fiji Sevens coach Ben Ryan is alarmed by its players at the exodus to Sri Lanka. He goes onto say "What I see happening next is the Sri Lankans keeping Fijians there for the three-year residency period and then playing international rugby for them as well." Great, we will be in the World Cup. Well, and good if there was a plan and possibly even sired a few to join the two Fijians in the Sri Lanka team. Wait and see whether this is happening or will happen as we ready ourselves for the Sevens end February and early March.
Have we been over valuing and over paying for those from Fiji to enjoy while we have not reaped the benefit. This is amply demonstrated by a statement attributed to stalwarts in Fiji claiming that Sri Lankan largesse has helped feed the families. Those who called this inclusion as forwarding looking now talk since powers are no longer around. Funding has ceased and players are heading back home. Worst is yet to come, as locals too will feel as they fall off the artificial pitch that was created.
The highest paid professional rugby player in Fiji earns around $15 to 20K in a year whereas we pay as much as three times that for six months. Some of these players will not want to get injured and run the risk of losing their gold prospects. It is interesting to listen to what is happening in the middle between some of these players of same origin but playing on opposite sides. It is always an exchange in their lingo and a run that looks good to the outside. Watch out for this and you will find it more interesting moments to run through. Will we get back to good and better rugby as the expenditure is limited and affordable for clubs to survive?
Meanwhile, rugby saw interesting side events with disciplinary committees of the Union and the schools section breathing fire and directing that persons named should not be allowed to the grounds. Some are talking of legal action and interesting times are in store. It is worth reading at least the last paragraph of Appendix 1 to World Rugby regulation 20: "Each Union and Association is under an obligation to comply with and to ensure that each of its members comply with this Code of Conduct and adopt procedures to monitor compliance with and impose sanctions for breaches of the Code of Conduct by Persons under its jurisdiction".
What was interesting during the Havelocks vs Army game was when Tony Amit invited a young man yelling to join the referees as he knew so much of the law. His answer was why should I? Who are you to ask me? What was most annoying as Tony explained was the incessant shouting that was a nuisance to other spectators to watch the game. What was pathetic according to Tony was that he kept shouting ignoring the hand of the referee playing advantage for offside or when there was none and shouting at the Assistant Referee to show forward passes. That showed the knowledge he had. As I have said before people pay to come to watch a match and shout at the referee as this is their rugby and what they enjoy.
Speaking of nuisance, another irritation at matches is the loud sound which people think is music and the continuous blaring and sound creation of 'papare' bands. If you must have music then it should be at times to signal events such as a score and not have sound (not music) that pierces your ear drums.
Vimal Perera is a former Rugby Referee, coach and Accredited Referees Evaluator IRB