Yapa's bicycles: The mystery deepens over deals within wheels
View(s):

Two containers which arrived from Japan under the name of the Lakshman Yapa Foundation headed by Investment Promotion Minister Lakshman Yapa Abeywardena were scanned and declared as 'unclear and suspicious areas marked' , but yet released without a proper investigation, Customs sources revealed.
The Sunday Times last week in its lead story disclosed that the two containers were released despite instructions that further checks were required. The two containers were declared to be carrying 200 used bicycles from Japan.

Following the disclosure, Mr. Abeywardena in a statement made in Parliament said that he was in Japan when the donation had arrived and that he did not personally call the Director General of Customs or any other Customs official regarding the release of these bicycles. The two containers – one of them 20 feet long and the other 40 feet, arrived at the Colombo Port from Yokohama, Japan on October 28.

The Customs Preventive Division had ordered an inspection of the cargo as it believed that 200 push bicycles could normally be loaded into a 20ft. single container. 'Usually one 20 ft. container could carry 350 such bicycles', a Customs officer said on condition of anonymity. Accordingly the two containers were placed under a scan two days later after the consignment arrived in Colombo.

A Customs scan report on two containers bearing numbers APZU-4896928 and TCKU-3579664 revealed that there were suspicious areas. Accordingly they were highlighted in the report. The stamp 'Further Examination Required' was placed on both scanned reports. Accordingly the report said the consignments were 'Unclear' and suspicious areas marked.
However on the following day the two containers were released without further checks, Customs sources said.

During a news conference held at the Sri Lanka Freedom Party (SLFP) Headquarters this week, Minister Yapa said the used bicycles were meant to be distributed among school children and others in the Matara District. He claimed that only 200 bicycles had been brought in the two containers and proper procedures had been followed in clearing the items. He said duty amounting to Rs. 436,571.00 had been paid with his personal funds.

However, when the Sunday Times subsequently questioned the minister as to why two containers were used to transport only 200 push bicycles, Mr. Abeywardena said 'that is up to the donor to bear the freight cost'. He said 157 bicycles were loaded into one container and the remaining 43 into the other container.

Mr. Abeywardena was in Japan last week where he met investors and called on Dr. Daishiro Yamagiwa, the newly appointed State Minister of the Ministry of Economy, Trade and Industry .In a statement made to Parliament Mr. Abeywardena said that Mr. W.R.Arunapriya, a Sri Lankan living in Japan had sent the bicycles as a donation.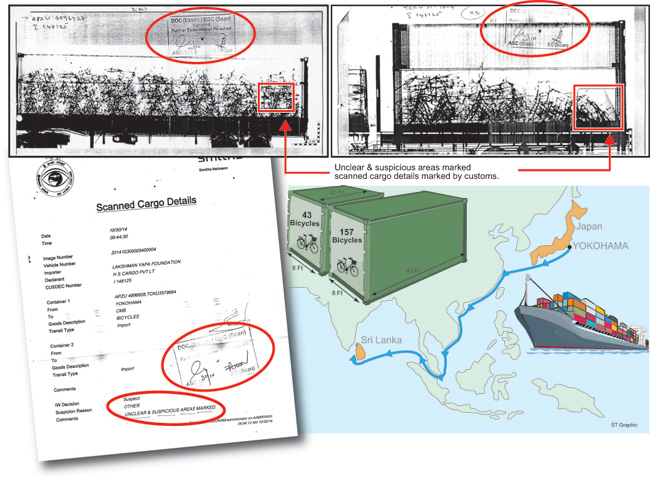 The Customs scanned report clearly indicates the cargo as "suspicious"