Team to learn from India how to handle high-risk viruses
By Nadia Fazlulhaq
View(s):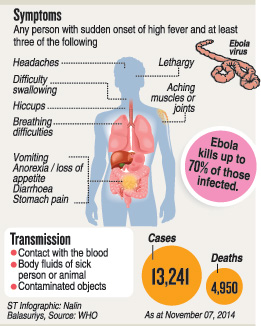 The Health Ministry will send a team of virologists and microbiologists from the Medical Research Institute and Infectious Diseases Hospital to Pune, India to observe the handling of viruses such as ebola in laboratories.
The team will be visiting the National Institute of Virology in Pune, which is the only top laboratory in Asia that tests samples of suspected Ebola patients, said the Director General of Health Services, Dr. P. Mahipala. "Sri Lanka has only a bio safety laboratory-3 (BSL-3) that cannot check samples of Ebola. The Pune laboratory is BSL-4 and has handled many hazardous diseases from avian and pandemic influenza to Crimean-Congo haemorrhagic fever. Our virologists should gain experience in how these are handled as our country is planning to develop its lab services," Dr. Mahipala said.
Dr. Mahipala said that there is strict surveillance at the airport and that those who arrive from West African countries without symptoms of ebola would nevertheless be monitored for three weeks.
Addressing a media workshop on Emerging Infectious Diseases in Nepal recently, Dr Rajesh Bhatia, Director Communicable Diseases Department of the World Health Organisation's regional office for South East Asia said that as there has not been an immediate reduction of the spread of ebola, countries should continue with strict surveillance and preparedness.He warned that the lifeless body of an ebola patient could carry the virus.
He said that an ebola survivor should avoid indulging in sexual intercourse for at least three months.The WHO said that the overall risk is low for South-East Asian countries, including Sri Lanka. The main risk will be from theimportation of a case and onwards-transmission of infection to others, either on arrival at an airport or at a health care facility after arrival.
"There are military personnel from our countries deployed as UN peacekeeping forces in the ebola-infected region. Some have come back safely but countries should be prepared and on alert," Dr. Bhatia said.
Dr. Poonam Khetrapal Singh, WHO Regional Director for South-East Asia, said good communication was an important part of the preparedness and response.
"If countries are not adequately prepared and do not respond with appropriate infection control measures and communication initiatives, precious lives could be lost," he said.