Double trouble from dengue despite campaigns
By Nadia Fazlulhaq
View(s):
Dengue cases were 100 per cent higher last month than in October 2013 despite intensive eradication campaigns, and authorities warn of a greater outbreak in coming weeks following islandwide rains.
Neither the Epidemiology Unit nor the Dengue Control Unit of the Health Ministry will officially reveal the exact number of deaths from dengue so far this year but The Sunday Times learns the mortality toll is more than 60.
There were 35, 842 cases by the end of October compared with 32,063 cases in the whole of last year, the Epidemiology Unit said. Last year, only 1,600 cases were reported in October while last month there were more than 3,700 cases.
This year's increase in dengue cases can be attributed to the erratic weather pattern, from drought to intermittent heavy rains, said Health Services Director General, Dr. P.G. Mahipala.
"Hospitals in places such as Negombo are flooded with dengue patients. The Health Ministry has provided additional health staff to the hospital to cope with the huge influx," he said.
While cases are rising, Dr. Mahipala points out that the house-to-house campaigns and cleaning programmes helped to retard the spread of illness.
Colombo South Teaching Hospital (Kalubowila), Deputy Director Dr. L. Muhandiram said the hospital was readying for the usual increase in dengue cases towards the end of the year.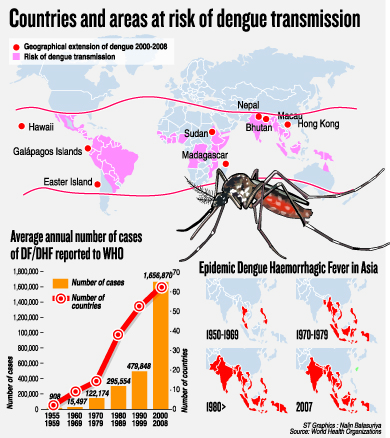 "At present there are 55 confirmed dengue patients and a lot of virus fever patients," he said.
Despite a number of cleaning campaigns and fumigation, the Western Province recorded the highest number of cases, and an increase compared to last year. This year up to October, 20,235 cases were reported in the province compared to the corresponding year's 16,540.
Colombo district is the most vulnerable with more than 11,000 cases: there were close to 9,000 cases from areas such as Moratuwa, Dehiwela-Mount Lavinia, Maharagama and Kolonnawa and 2,700 cases from Colombo city itself.
Other districts that show a significant increase are Ratnapura, Kurunegala, Kegalle and Jaffna.
National Dengue Control Unit spokesman Dr. Nayana de Alwis said the Gampaha district showed an increasing trend of dengue patients, especially from Mahara, Wattala, Negombo and Seeduwa.
"Dengue mosquitoes are also increasing within the Colombo Municipal Council area," she said.
Sri Lanka has all four dengue serotypes, so the disease is widespread, Dr. de Alwis said. The Health Ministry is finding it hard to distinguish high-risk areas with dengue cropping up constantly in many districts.
"Local governments should make sure that dumping sites do not end up being major breeding spots. Dengue control is a multisectoral approach and it is difficult for the Health Ministry alone to handle it," Dr. de Alwis said.
Common mosquito breeding spots are jars, pots, buckets, flower vases, water tanks, discarded bottles and containers, tyres, air conditioners, water coolers and refrigerator trays. Containers, tanks or barrels should be drained or cleaned at weekly intervals as well as remove waste and items in which rain water collects.
Rushed spraying 'increased cases'
Unsystematic and hurried fumigation and larvicide spraying has increased dengue cases, entomologists charge.
"Dengue control should be well organised and co-ordinated, not a desperate measure to get rid of mosquitoes and use up funding," said Entomology Officers Association spokesman N. Sumanasena.
"These rushed programmes result in the reduction of butterflies and especially dragonflies. Young dragonflies consume mosquito larvae and adult dragonflies consume grown mosquitoes," he said, adding that entomologists, who study the nature of the mosquito and could identify breeding spots, were not invited to discussions on dengue control.
Mr. Sumanasena said the larvicide spraying had been carried out with little consideration for the surrounding environment and also put the health of residents at risk.
"The chemical dosages used in fumes are not measured and sometimes there is an extremely strong odour of larvicide," he said.
The elderly, children and those suffering from respiratory illnesses should be moved away before fumigation or spraying insecticides, Mr. Sumanasena said.
Symptoms to watch
Symptoms of dengue are high fever, headache, pain behind the eyes, body aches and joint pains. This progresses to severe and continuous pain in the abdomen, restlessness, bleeding from the mouth, gums, nose or skin bruising, black stools and pale, cold skin.
If dengue fever is suspected, avoid using aspirin and ibuprofen. Take paracetamol for fever and body aches and seek medical advice. Antibiotics have no role in treatment of dengue fever, the World Health Organisation advises.
Signs of recovery
Hospitals should discharge patients only when they note:
- absence of fever for at least 24 hours without the use of anti-fever therapy
-visible clinical improvement
- satisfactory urine output
- a minimum of two-three days have elapsed after recovery from shock
- no respiratory distress
- a platelet count of more than 50 000/mm3; if not, patients will be advised to avoid traumatic activities for at least one to two weeks for the platelet count to be normalised.