'Pure Piano Moods' back in action
View(s):

Mehroon Wahab returns to perform 'Pure Piano Moods III' on October 4 at the Goethe Institute hall. Having made a comeback in 2012, this will be her third annual public appearance since then.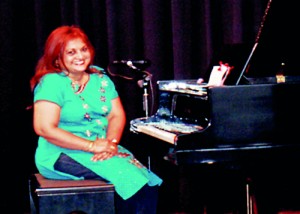 Her performance for the evening will feature a repertoire consisting of classical, jazz and popular music -from Liszt, Sinding and Rachmaninoff to Gershwin, Porter, Berlin, and Coward, from Nat King Cole, the Beatles, Englebert, Santana, including three of Mehroon's original compositions and our own C.T. Fernando, Nimal Mendis and the Golden Chimes to several other songs.
Known as the pianist with the 'Shearing touch' (in reference to jazz pianist George Shearing) in the 70s and 80s, she plays everything from classical to pop and jazz. Mehroon, who began playing the piano at the age of three and a half years, is self- taught and can play any song by ear and from memory.
At 15, Mehroon Wahab began performing on Sri Lanka Broadcasting Corporation (SLBC) radio fortnightly.
Performing regularly at the Intercontinental Hotel, The Hotel Lanka Oberoi and the Galle Face Hotel by which time, she could effortlessly play over 600 songs without any notation, she became a professional jazz pianist. A German journalist described her as "the young girl who played astoundingly wonderful music by heart, with poignant expression and virtuosity." She has even occasionally played for Erin De Selfa in Colombo, as her back up.
Mehroon took an extended and self imposed 'break' to take care of her family, whilst continuing to teach.
Tickets for the 'Pure Piano Moods III' charity show are available at 126/1, Park Road, Colombo 5 or by calling 077 3822142. Part of the proceeds from the show will be donated to the "Marc Sri Home for the elders and differently enabled children" at Kalutara.