Lankan wins grand prize at 'Sugar Art Showcase'
By Tharaka Yamini Mendis
View(s):
Nisha Fernando, who started out as an interior designer but then branched into a career as a cake decorator has done Sri Lanka proud winning the Grand Prize at the 2014 Michigan ICES Sugar Art Showcase in the United States.
"The Michigan Sugar Art Showcase is an International competition sponsored by the Michigan Chapter of the International Cake Exploration Society (ICES) and is held biannually. The 2014 showcase was the organisation's fourth competition and this year's chosen theme was "The Magnificent Steampunk Sugar Art Exposition".
Nisha, the daughter of Shantha and Nirmali Warnakulasuriya, is an old girl of Methodist College in Colombo 3. After completing her 9th grade, she migrated to Canada with her parents and then later earned her degree in interior designing. After marriage to her high school sweetheart Rukshan in 2000, she moved to the United States.
A talented artist, who inherited her artistic skills from her late grandfather, Paul Warnakulasuriya, Nisha who grew up watching her mum decorate cakes, began making cakes for her children's birthdays. Friends and family encouraged her to start her own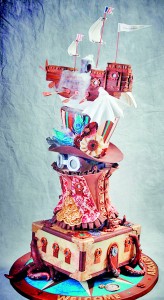 business, so in 2013, Sweet Delights Cakery in West Bloomfield, Michigan was opened – named after her two children whom she calls (Sweet) Savannah and (Delightful) Dylan.
Coming across the Michigan ICES Sugar Art Competition she decided to enter a cake in the Magnificent Steampunk category – something that imagines science fiction in the Victorian age. With only two weeks to create the cake, she did a lot of research about the steampunk genre and decided to make a topsy-turvy cake with a story line using a travelling suitcase, a corset and a top hat. The suitcase, corset and top hat make up a three-storey building, in the middle of the ocean, held up by an octopus. On top of the building is a launching pad for the steam-powered airship, which represents the Steampunk invention of the era.
Since Victorian women wore a lot of jewels and used lace on their clothing, she handcrafted her own lace using the Sri Lankan technique of "Beeralu" and then converted the lace into a mould to make the flower on the top hat. She added an inspirational poem that talks about expressing art in different mediums, by stenciling it into the travelling suitcase.
Nisha used techniques such as modelling chocolate, fondant, gum paste, edible images, wafer paper, royal icing, stenciling, air brushing, Sugar Dress and isomalt in her creation. As a novel touch, she placed lights at the bottom of the travelling suitcase and used dry ice to mimic the steam from the airship.
Competing with over 200 talentedcake decorators from North America, Nisha was thrilled to be awarded the Grand Prize. Three celebrity judges decided the winners, including Michigan native Mary Maher from the "Cake Girls", International award winning cake designer Lisa Bugeja from Canada, and 'Swank Cake Design' founder Wayne Steinkopf.
Nisha is a certified Instructor for Wilton and also conducts classes at her cake studio in Michigan. In addition, she is also an instructor for the West Bloomfield Community Education at her home town where she teaches cake decorating to both adults and children.
Her grand prize winning cake was published in the Detroit Free Press and also in the American Cake Decorating magazine. Her website is www.sweetdelightscakery.com and you can follow her on Facebook www.facebook.com/sdcakery.