Though second to one, Trinity did well this year
By Shamseer Jaleel
View(s):
Trinity College rugby players were on a mission this season. They were out to secure the 'Bradby Shield', the Canon De Saram, Dennis Perera and the Singer Schools League titles which were on offer. One more to go this season, the Milo President's Trophy Knockout Championship. They won three missing out on the last one just by a whisker to Isipathana College.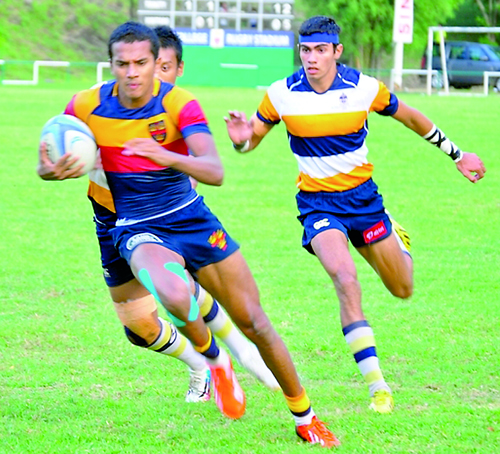 Trinity 'Lions' led by Tharinda Ratwatte did an excellent job on the field after their 12 points lead in the first leg, closely-fought second leg in the Bradby Shield encounter at Pallekelle. So these youngsters allowed the Bradby to be kept at 'Lion's den' for yet another year. This is the fourth year running, this stint started from Murad Ramzeen's leadership continued by Kaneel Seneviratne, Halique Wadood and now Tharinda Ratwatte.
Technical Advisor of the team Neil Footie and ably supported by Sean Wijesinghe, who gave up due to his commitment at Kandy SC halfway in the season, with Manoj Jayatissa as Manager, were with the boys most of the time. The Under-18 side, coached by double International Pradeep Basnayake and Thusitha de Silva, remained unbeaten scoring points at will.
Tharinda Ratwatte's captaincy also comes as in one of the rare occasions as his father and he too got the opportunity to lead the Trinity rugby outfit. They became the third father and son pair after S.B. Madugalle and Dharmasiri Madugalle and later on R.G. Sourjah and Rohan Sourjah. With Royal's four-in-a-row record (2001-2004), now equalled by the Lions who will be aiming to beat the six-in-a-row record by their own team from 1952 to 1957. With the Rugby Scrummage looking after the entire structure, lads starting from juniors at Under-10 to seniors at Under-20 at Trinity are really fortunate on the support and guidance from the past players. In addition their main sponsor Land Rovers' funds have been invested correctly by Trinity.
Trinity started off the Singer League well this season with a hand off against D.S. Senanayake with a smashing 61-0 win and then went on to beat St. Joseph's 34-17. Their third outing, though they had things their own way but with number of handling errors, after having territorial advantage, were second to Isipathana by 17-21 which cost them the League title this season. Then they overcame a spirited Wesley outfit 15-9 and the first leg of the Bradby against Royal by 28-16 and beat Royal in the second leg as well. Then they continued their winning streak against Science 38-16, S. Thomas' 38-10, Kingswood 27-24 and St. Peter's 29-22.
In the end the young lads achieved what they really wanted and what is considered the high priority for any Trinitian, the 'Bradby Shield'. They also regained the Canon de Saram Trophy and Commander Dennis Perera Trophy which was on offer for the very first time against the St. Peter's.