Aravinda's cricket dream
View(s):

Batting great Aravinda de Silva revealed that the Coca-Cola Pathway Camp, whose fourth edition will climax today at the Moors cricket grounds, has enabled him to realize a long-held ambition of nurturing budding cricketing talent within the country. "It was one of my dreams to start this. It was all to do with the young kids of this country, to try and lend them a hand and make them understand what is required at the highest level and give these kids what they need in so many areas so they can be a Mahela Jayawardene, (Kumar) Sangakkara or a Muttiah Muralitharan," De Silva said at the event's launch on Friday.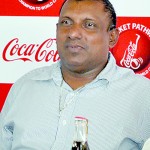 The Coca-Cola Pathway Camp, which is a joint initiative between the global beverage giant, the Aravinda de Silva Cricket Foundation and Sri Lanka Cricket, has been held since 2008 with the goal of "supporting grassroots cricket by encouraging healthy, active lifestyles amongst the youth of the country."
De Silva also praised the commitment and dedication of his coaches which had gone a long way in strengthening his own resolve toward the project and added that the camp was bolstering the crop of young stars entering the national ranks.
"When we started this we wanted to focus on the Under 19 age group, which is the entry level into international cricket. We decided to focus on the Under 19 World Cup and to go ahead and train some of these kids within that age group."
He urged the present participants of the camp to make full use of the opportunity presented to them, and advised parents to support their children but avoid interfering, saying that such action would prevent young players who are talented and capable from rising to the top.
- DS