Nishantha Chef de Mission at Glasgow
View(s):

National Olympic Committee's Assistant Secretary Nishantha Piyasena has been appointed as Chef de Mission of the Sri Lanka contingent for the forthcoming XX Commonwealth Games 2014 in Glasgow, Scotland.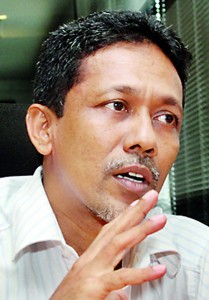 Piyasena, who assists the Academic Panel of the International Olympic Committee's Advanced Sport Management Course and the Sport Administration Course of the NOC, as a tutor and facilitator, also have led Sri Lanka contingents thrice before.
This will be Piyasena's fourth and biggest event besides attending the 1st Asian Youth Games and 1st Youth Olympic Games, both held in Singapore in 2009 and 2010 respectively and the South Asian Games in Bangladesh in 2010 in the same capacity.
Sri Lanka will be represented by 104 athletes in 14 different sports disciplines at the Glasgow Commonwealth Games which will take place from July 23 to August 3.