Whirlwind over windmill contracts
By Namini Wijedasa
Wind park project faces criticism from many quarters Fixed unit price, 10MW blocks on-first-come basis smacks of unfair practice
View(s):
A proposal to distribute lucrative wind energy contracts to local investors bypassing tender procedure continues to draw strong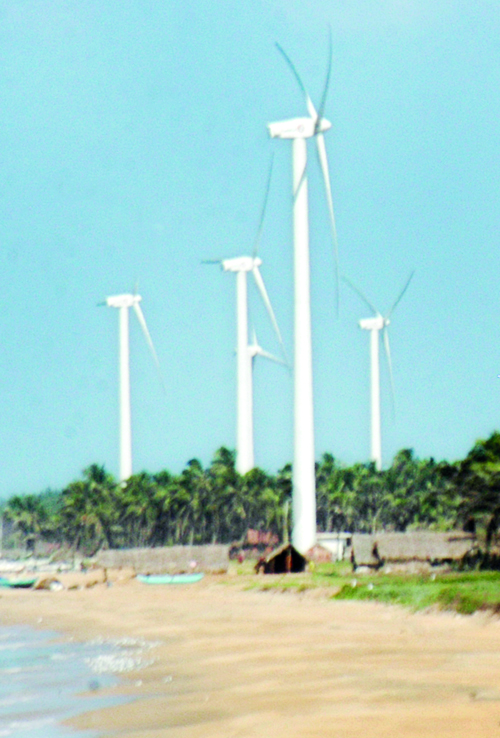 criticism, including from a former Minister of Power and Energy.
Champika Ranawaka, who is now Minister of Technology, Research and Atomic Energy, calculates that the Ceylon Electricity Board (CEB) will lose around Rs. 62 billion within a 20-year period if it agrees to buy wind power from these investors at the current fixed unit price and not on a competitive basis.
Independent experts have already warned that the projects could be parcelled out to political henchmen. They also fear that the CEB will agree to buy power from these investors at a standardised price of Rs. 23.10 per unit when, according to some estimates, it could be purchased for as less as Rs. 12 per unit.
The latest plans were revealed in a Cabinet memorandum submitted by incumbent Power and Energy Minister Pavithra Wanniarachchi in April. It envisages the setting up of a wind energy park in Mannar to generate 375 megawatts (MW) of power but inexplicably divides the plan into three segments.
Firstly, the CEB will set up a subsidiary to generate 100MW of wind power. Secondly, 150MW will be generated by individual investors selected through an open competitive bidding process among local developers. Foreign partnership of up to 49 per cent of equity will be permitted, if necessary. Payments for wind energy will be based on competition through the open bidding process.
It is the third provision that has caused widespread scepticism. The memorandum says the final 125MW of power will beproduced by local investors to be selected on a first-come first-served basis, and not through open competitive bidding. Foreign partnership of up to 49 per cent of equity has again been allowed.
This segment has been divided into small blocks of 10MW or less and investors are to be paid on a "cost reflective basis". In March, Cabinet had decided that power produced from renewable energy sources such as wind should be bought at a flat rate of Rs. 23.10 per unit, non-escalable for 20 years.
"That is an exorbitant price to pay when the technology has matured and prices around the world are becoming far more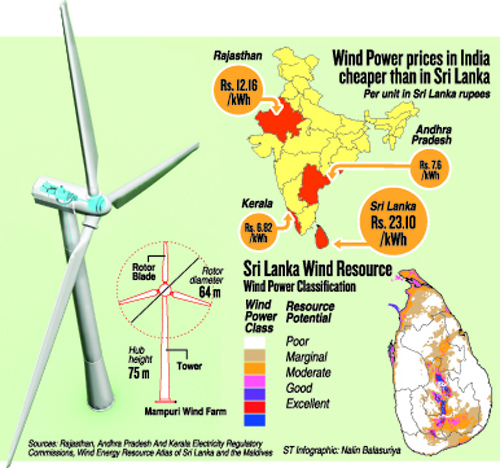 competitive," said a sector analyst who did not wish to be named. Minister Ranawaka points out that, if 25MW blocks are offered on the basis of competition, it is not necessary to exempt 10MW blocks from competition. "If such an opportunity is given to the private sector, the loss to CEB will be in the range of Rs. 62 billion for a 20-year period," he says. "If the purpose of offering 10MW blocks is to give that opportunity to local entrepreneurs, then there is a question of why a 49 per cent ownership is officially indicated for foreign ownership."
The Minister also spoke of the economies of scale. "Larger the wind farm, lower the cost of installation, as the same cranes andtransport facilities will have to be deployed," he said. "In this respect, there is no valid reason given in the Cabinet memorandum for proposing three different sizes of 100MW, 25MW and 10MW. If cost optimisation is selected, three 125MW wind farms could have been selected on competitive basis. Otherwise, the process will give way for pre-selected, proportionally-sized, dealmakers and henchmen."
Power and Energy Ministry officials—such as Secretary M.M.C. Ferdinando—say they, too, want a competitive bidding process to be followed. The Secretary said it was the Sustainable Energy Authority that had wanted a segment included in the wind park for 10MW blocks on a first-come, first-served basis. The SEA falls under the Ministry of Environment and Renewable Energy.
He also insisted that those securing contracts under the 10MW blocks will have to pay the price quoted by those taking part in the open tender process. "I told the SEA, however, that they cannot ask for the standardised tariff of Rs. 23 per unit to be applied," he said. This is not reflected in the Cabinet memorandum.
Meanwhile, the Ministry of Environment and Renewable Energy says that any Cabinet memorandum to set up any wind power park should have come from it and not from the Ministry of Power and Energy. "We have the mandate, there is no doubt about it," said B.M.U.D. Basanayake, Secretary to the Ministry of Environment and Renewable Energy. "We had no role in submitting this paper to Cabinet. Our Minister (Susil Premajayantha) did not make observations on it."
The SEA issues licences and regulates the renewable energy sector. "Where open tender bidding is concerned, we are not going to say that's the procedure to be adopted," Mr. Basnayake said. "Open tenders is a good thing. We can include it as an option. But the Cabinet decision was to identify sites and auction it."
Mr. Basnayake said the tariff rates should be those decided by Cabinet—Rs. 23.10 per unit. He claimed that this was "not so expensive" and that the calculation had been done by SEA and CEB along with other experts.
Energy sector analysts strongly denounced moves to adopt the fixed tariff. "A standardised price is introduced when you want to experiment on a technology that is new to the country or new altogether," said a senior professional who did not wish to be named. "Once the technology matures, either at global level or local level, the correct way is to go for competitive bidding to find out the most economical price of the energy projects.""The bottom line seems to be that the two ministries want to have control over who gets the project licences," he said.