Chaos and confusion over night races in Kandy
By Chathuri Dissanayake
View(s):
The move to hold night races in the historic city of Kandy for the second year in a row has drawn the ire of opposition members of the
Kandy Municipal Council (KMC).
Mayor Mahindra Ratwatte informed the Council that Sports Minister Mahindananda Aluthgamage had written to him on behalf of Carlton Sports Club seeking the Council's approval for holding the races.
The UNP members of the KMC and the Sri Lanka Muslim Congress (SLMC) opposed the proposal and questioned the purpose of seeking approval of the Council when the organisers of the races have already begun preparations.
A request by the SLMC for a secret vote to approve the proposal was denied and the proposal passed with the UNP, SLMC and one member of the UPFA opposing it.
"They have already begun putting sand bags around the city and putting up fences without our approval. The item was discussed in the finance committee outside of the agenda too", KMC Opposition Leader Niranjan Wijeyaratne told the Sunday Times.
He said that Kandy is a heritage city and such events as night races should not be held there.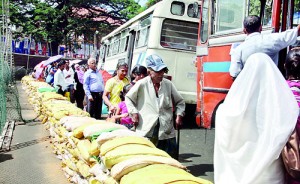 The night races were held last nigh.
"Nowhere in the world do they hold this type of event in a Heritage City. If night racing is needed by vested interests, then they call upon the Government have a strip for road racing at Pallekelle," he said.
Opposing the proposal SLFP member Ananda Sarathkumara said that approval for the event should have been sought before the organisers started preparations for the event, not after.
"This displays a callous disregard for the Mayor and the Council of the city. The organisers should have applied for approval during the last council meeting if they wanted to make prior arrangement. Going ahead before approval is granted means that they would have done it regardless of the council's position," Mr. Sarathkumara said.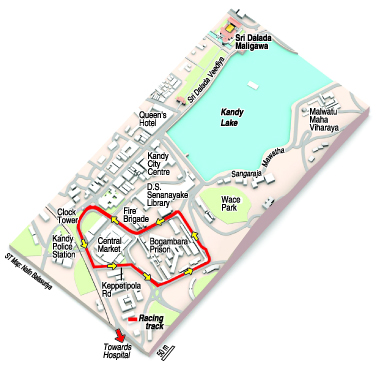 The Council also raised concerns over the main access point to the Kandy General Hospital being blocked by the proposed race track.
"The answer we got was impractical. They said at one point that if an ambulance comes they would stop even an ongoing race to let it pass," Mr. Sarathkumara said.
Meanwhile members of the public have been inconvenienced by the fences put up the road for the races separating buses from commuters. Crowds were gathered on one side of the roads near the clock tower bus stand unable to get into buses going towards Kurunegala, Matale, Lewella, Digana and Anniewattive as adequate arrangements for alternate bus halts have not been made. Chaos and confusion reigned as many of the commuters were left stranded unable to get into buses or reach their destinations due to the barriers put up for the races.
Additional reporting
by L.B.Senaratne