PS seizes 14-acre Nuwara Eliya land for UDA development
View(s):

A 14-acre plot of land in Ihala Wewa Road, Nuwara Eliya, was this week taken over by the Pradeshiya Sabha Secretary under a special gazette notice, and handed over to the Urban Development Authority (UDA), officials said

Having received a complaint on May 2, 2013, that a private company was allegedly trying to sell the land in plots, the Environment Committee of the Nuwara Eliya District acted to temporally halt the sale of the land, as the private company had not requested or obtained permission to sell the land.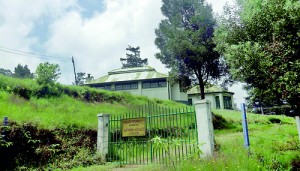 Nuwara Eliya UDA Additional Director was notified of the circumstances on May 9, 2013, by Nuwara Eliya Environmental Committee Chairman, D.P.G. Kumarasiri.
Meanwhile, the Nuwara Eliya District Secretary, on a report submitted to Economic Development Minister, Basil Rajapaksa, requested that the land be acquired for a project of his ministry.
The land situated near Lake Gregory and the Racecourse Grounds, was to be divided into 38 plots and auctioned by the private company.
Mr Kumarasiri said the UDA would construct an Eco Tourism Zone on that land.