South Korean job seekers accuse minister, official of verbal abuse
By Charundi Panagoda
Protestors' actions may result in loss of quota, says official
View(s):
South Korean job seekers protesting outside the Sri Lanka Bureau of Foreign Employment (SLBFE) accused Foreign Employment Promotion and Welfare Minister Dilan Perera and SLBFE Deputy General Manager and media spokesperson Mangala Randeniya of verbal abuse directed at them for protesting.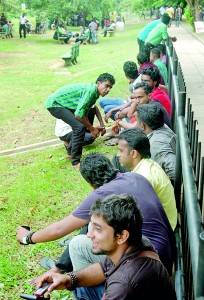 The job seekers have been protesting since March and "about 12″ of them were given an audience with Minister Perera last Wednesday.
"When we went to discuss the matter with the minister it wasn't much of a discussion but a lecture," Rohana Chaminda, a protestor who was at the meeting, told the Sunday Times. "We were not allowed to express our counter arguments. He called us the 'umbaae kattiya' (the mooing crowd), that's like calling us 'harak' (cattle).Then he pointed at a Tamil guy there and said he was acting like Prabhakaran."
"I was attempting to explain to him our situation when he said I'm like Prabhakaran, trying to make divisions," the Tamil protestor involved said. "When I heard that, I could feel tears well in my eyes. It was extremely distressing to be name-called like that."
Minister Perera told the Sunday Times that he was only making a comparison.
"I told the Tamil boy, what you are doing is comparable to what Mr. Prabhakaran did; not all Tamils wanted an Eelam in Sri Lanka, only a handful did," the minister said explaining his remarks. "Then some extremist Sinhala people started calling every Tamil an Eelamist. I told him, likewise, what would happen if they protested like this would be that people in South Korea would think all potential job seekers from Sri Lanka were like that."
"I told them this sort of thing would jeopardise not only their jobs, but of all other present and future candidates as well," he added. "They don't have protests like this in South Korea, and they don't want workers who might go on strike. They are putting jobs of other candidates in danger too. Korean jobs are not given by the Lankan Government but by the South Korean Government. Are we to force a foreign government to give these people jobs?"
The protestors also accused Mr. Randeniya of yelling at them "thopi quota nethikarana harak," (You are all quota destroying cattle) during the protest held on June 18.
Mr. Randeniya denied that he ever used the words "thopi," a derogatory term for 'you,' or "harak,"cattle.
"I only said 'ogollo harima modai, mae kramaya danuwath nethiwa kada kappal karanawa' (All of you are really stupid, you are dismantling the system without understanding it)," he said. "Due to their ignorance they don't realise the country could lose its quota. The South Korean officials want the protestors' names blacklisted, but we didn't do that. The Koreans think the Lankan government is somehow supporting the protest. We even had to apologise on behalf of the institution to Korean officials."
The protestors claim that they had not been given South Korean jobs despite all of them having passed the Korean language exam in 2011 that qualified them for employment in South Korea. Protestors claimed that the candidates who sat for the exam in later years and passed were given jobs despite a number of qualified candidates from the 2011 batch not being employed.
"There are some 2,000 people from the 2011 batch not yet employed," Nishantha, a playwright and a protestor, said. "All we ask is to let the 2011 crowd go first and after that let the 2012 and 2013 crowds go. We don't have anything against conducting exams annually, we just ask first help the remaining people from 2011."
All potential job seekers to South Korea are required to pass a Korean language exam conducted annually by the Human Resources Development Service of Korea (HRDSK). If they pass, their names will be listed on the HRDSK website for potential employers to see. If an employer selects a candidate, he is issued a job agreement and notified online and via a letter from SLBFE.
Mr. Randeniya said the protestors do not understand this procedure well. Passing the language exam only qualifies a candidate to work in South Korea, and does not guarantee it, he said.
"We have no control over these actions, the jobs are generated in South Korea," he added. "The reality of 2011 is that 9,998 passed. Out of those more than 7,500 have been selected for employment and about 2,000 are currently on the waiting list. The list will be kept online for two years, but for the 2011 batch we requested HRDSK that the names are kept online for an additional year, until about October this year. The protestors lack a basic understanding of this so we regard their demands as unreasonable and impractical."
Nishantha said the SLBFE and the HRDSK do not clearly communicate to the candidates that the language exam is only a qualifier. Mr. Randeniya countered saying "it's clearly stated in the agreement they sign with the SLBFE."
Regardless, the protestors described their situation as a "great injustice." Some of them had either quit or had been fired from their local jobs while waiting in hope of gaining employment in South Korea. Most claimed they had spent a lot of money, time and effort sitting for the exam. One protestor said he studied for the exam using the light on his cell phone in secret during night shifts at his local job, and attending classes early morning.
"Also, SLBFE sometimes sends us letters saying our online listings are cancelled even when they are still up on the web," a protestor alleged. "Sometimes when the website notifies that we've been issued a job agreement by an employer, the SLBFE says there is no such job agreement."
Mr. Randeniya said the SLBFE sends "no letters" informing listing cancellations to candidates and only notifies them via "telefax messages" if a candidate receives a job agreement. When the Sunday Times presented him with such a letter, he said the SLBFE does notify candidates in writing if their online listing is about to expire. He added that expired names could remain online when the website is not updated. He denied that the SLBFE fails to deliver job agreements issued to candidates.
The protestors further alleged that they were disadvantaged by political cronyism that favours Minister Perera's political supporters from Badulla and Hambantota.
"We don't have jobs because jobs are given to the Minister's vote bases," one protestor accused. "There are even people who failed the language exam, but still went to Korea, while qualified people like us suffer."
Minister Perera vehemently denied accusations of political cronyism.
"The claim that I host people in Badulla is absolutely wrong," he said. "Normally, we send 4,000 candidates to Korean jobs, last year we sent more than 7,500, more than double the previous year so how can anyone say there's political manipulation?"