Mother Earth belongs to all beings, not just us humans
By Tharooshie Mahahewage
Nature lover B.A. Mahipala who launched his maiden book, "Odyssey Into The Wild", says the aim of the book is to raise awareness on the beauty of our world
View(s):
Photography in itself is a hobby pursued by many. With so many different cameras in the market, photography has soared in popularity recently. Among the many different types of photography Bamunu Arachchige Mahipala believes, wildlife photography is the best hobby one could have.
Travelling to six continents and more than 20 different countries, he has an impressive collection of photos as well as experiences and this is what prompted him to start work on his first book, "Odyssey Into The Wild" launched earlier this month at the Cinnamon Grand hotel. The opening on a 'Safari' theme was attended by many distinguished guests as well as family and old school friends. Two of Mr. Mahipala's grandchildren made the opening and closing speeches that evening.
Mr. Mahipala studied at St. Thomas's College Guruthalawa and it was his brother B.A.Dharmasena who evoked an interest in wildlife photography in him. Mr. Mahipala started on his journey of photography with his brother's old camera.
The coffeetable book marks important junctures of this voyage till the present day. The book comprising 208 pages and 20 chapters has more than 100 pages dedicated to Africa and 40 to the diary of the lioness Machali in India.
Mr. Mahipala recalled how he sailed the Amazon river looking for jaguars, camped for two days in the poles observing Emperor Penguins, climbed the Rwanda mountains searching for gorillas and swam the seas with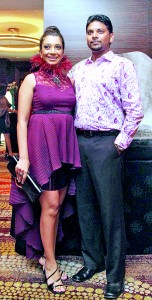 dolphins. "I'm not a professional photographer. But I'm a nature lover and this love brings out the best in my talent," he said.
The cover picture of the book is from his travels to Peru – dawn in the Amazon rain forest. "I climbed a 30m high platform early before sunrise to capture this shot," he reminisced. He also remarked that he recently read an article which said that the Amazon could be a desert in our lifetime. "This is why I thought of doing this book project- to raise awareness on the beauty of our world. This earth belongs to all living things on it. Seven billion people can't claim ownership of the earth. There are animals and plants that share the same environment as humans and it is important that we share and have a balance," he said.
Proceeds from the sales of the book will go to the Bamunugama Arachchi Foundation (BAF) which is currently working on a project to build a new operating theatre complex for the Homagama Base Hospital and to purchase equipment for the hospital. The hospital founded by Mr. Mahipala's father B.A. Sumaneris Appuhamy back in 1948 has already undergone modern refurbishments.
Many donations were made at the event itself with Sampath Bank donating 4500 USD, Naturub Group donating 3500 USD, Knorr Lanka Manufacturers donating 2500 USD and the Bank of Ceylon donating 1500 USD.
The book priced at 59.99 USD or Rs. 7,800 is available in the amazon.com website as well as at all leading bookstores. A photo exhibition featuring the pictures included in the book will be on from May 29 to June 1 at the National Art Gallery. An auction will also take place at the exhibition where visitors can bid for the photographs. A raffle draw will also be held for those who like their Facebook page named Odyssey into the Wild. The winner stands a chance to obtain a free autographed copy of the book, and a wildlife photo.