Letters
View(s):

Holding a 'toy' pistol to the head of a 'sovereign' people

For some time now there have been repeated challenges to the so-called sovereignty of the people in the form of gross lawlessness displayed by a privileged few enjoying the luxury of being blessed by the greats of the ruling party and, thereby, becoming a law unto themselves.

The most recent flagrant disregard of the law, publicised by non- challengeable media pictures (seen by so many) and I believe, substantiated by video footage, is clear evidence of the shocking, deplorable and dangerous state of affairs now prevailing. Quite apart from providing ammunition to a hostile international community, this state of affairs has compelled the non-privileged and under-privileged people of this land to ask serious questions regarding their future in their homeland; though, for obvious reasons, they do not voice their concerns publicly. This silence, on the part of the majority has unfortunately lulled the governing body into a complacent somnolence of cosy comfort. Unfortunately this complacency is compounded by the presence of some powerfully placed public officials who do not tell the rulers any uncomfortable truths, for fear of losing their comfortable and highly remunerative positions.

In the name of good governance and not for the purpose of promoting regime change — it has been shown that regime change changes nothing — what is urgently needed instead is a radical change in the style of governance. I wish to underline two most dangerous aspects of the recent illegal attack on a group of opposition parliamentarians.

The powers that be condoned the clearly illegal action of a group of government supporters on the totally slippery grounds that these attackers were those who were infuriated by critical remarks made by some of the opposition parliamentarians.

Conclusion: A is entitled to break the law if his neighbour B makes an unpalatable remark about him. He is perfectly justified in assaulting him to the point of death or even threatening him with a pistol and then claiming, quite laughably, that the weapon he used was a toy gun! Who is playing games with whom? Of course, to break the law in this manner, A has to be either a government politician or a fortunate person enjoying the patronage of the Government.

While media pictures clearly showed that unmistakably the attackers were led by a pistol (claimed to be a toy one!) packing Mayor, the same police which received well-deserved praise for gathering information that led to blowing the cover of many a safe house for the terrorists, during the past conflict with the LTTE, now stood by haplessly and merely observed the illegal action, rooted to the ground. Days after the incident, four persons were produced in court and more, the police-spokesman said, were forthcoming. It was only when the pressure that was building up became too heavy for the Police to bear that we saw the perpetrator surrendering with his alleged 'toy gun' last week.

Clearly, the investigating unit had lost its efficiency or was afraid to take any action against the Mayor soon after the incident, because he is a government politician and is protected by the powers that be. The Mayor belongs to the rapidly growing high caste of the "untouchables", the members of which caste are entitled to spit on the law and be a law unto themselves.

Conclusion: Justice does not prevail in this land of ours. Equality before the law, guaranteed by the constitution is a myth. No punishment is meted out to law breakers, provided they are members or ill disciplined supporters of the governing body.

The final conclusion arrived at by the average citizen is, that for the members of this low caste to which s/he belongs, the only safeguard left to them is to either join the governing party or display their deep loyalty to the latter, by stepping outside the law and attacking anyone who makes the slightest criticism of the party in power; with the confident knowledge that they will receive the protection of the 'gods' above and no legal action will be taken against them.

Whither Mother Lanka?

"Let us pray" silently murmur the people of this our homeland.

Dr. Mark Amerasinghe
Kandy

Reduction of electricity prices: Another
broken promise?

Last year about this time there was public outcry against the proposed electricity prices especially hitting low-end domestic consumers. At the May Day rally last year the President announced that prices for low-end consumers would not be increased. All cheered.

Contrary to expectations that the government would provide funds for the benefit so declared, what happened was that the loss incurred thereby was charged to high-end domestic consumers. The proposed Rs. 24 per unit for units above 180 was changed to Rs.42 per unit, a 75% increase, and we have to pay Rs.18 extra per unit for the benefit given to low-end consumers. In addition a 40% fuel charge has also been added.

During that time, at a news conference, the Power Ministry Secretary confidently assured the public that the prices would be brought down and surcharge removed in October 2013 when the second generator at Norochcholai was commissioned. At that time we accepted the assurance given. Now it's April 2014, six months after the promised date, but not a word has been said about the price reduction. Surprisingly, the front page article in the Sunday Times of April 27 2014 quotes the CEB Chairman saying that the surcharge can be removed only when the third generator is commissioned.

With interest rates on our savings on retirement being lowered forcibly to very low levels on the one hand, sky-rocketing prices on all consumer goods on the other, we can only have some relief if at least the price of electricity is brought down as promised. Could the Power Ministry, Secretary inform us when the promised price reduction will be given? Hope he has not forgotten about the promise.
Incidentally, what is the Public Utilities Commission doing about setting cost reflective prices, where we will know how much we are subsidizing other consumers?

"A Burdened Consumer"
Kadawatha

Remove the import tax on diapers

Disposable diapers are not only used by babies but also by elderly and handicapped people. Therefore it cannot be considered as a luxury item any more.

Diapers are not manufactured locally. Unfortunately, the heavy import tariffs on diapers have resulted in the high cost of the product, causing great hardship to the users.

This issue was also raised in Parliament by an opposition member recently.

I earnestly appeal to the authorities to kindly look into this issue from a humanitarian angle and to exempt this product from import duty and other taxes, so that it will be available to the users at a reasonable price.

Lalindra Abeysekera
Via email

Hell of a ride — with a ticket to heaven

A month ago, while jostling for shoulder room and a firm foothold in a sardine-packed bus, I happened to inadvertently glance at the ticket a typically brutish and betel-chomping conductor had hurriedly proffered me. Right at the top of it, as large as the beads of sweat now rolling liberally down my grimacing face, were inscribed the words, 'Lord Jesus save us'.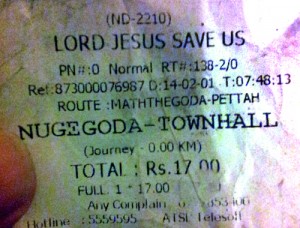 As a seasoned bus passenger and practising (albeit rather poorly) Christian, I have lost count of the number of times these same words, or variations of them, have escaped my lips. I utter them whenever the driver, channelling the competitive spirit of the late Ayrton Senna, decides that he is ready to set a new record route time. I also ardently beg for divine intervention whenever every molecule in my body seems compressed to bursting point only for a barking conductor to goad ten more passengers into the area immediately surrounding me. On rare occasions I have also called upon spiritual deliverance whenever the nozzle of my antiperspirant releases the final, ineffective remnants of its once fragrant spray and I find my poor fellow commuters pressed dangerously close to my armpits.
Yes, it seems that all I ever do whenever I leap confidently over the threshold of a bus, fooled by the mirage of an empty seat from the outside, is curse a laundry list of inconveniences and pray for safety. I am not alone though. For many, the thought of a bus ride in Sri Lanka is as appealing as a colonoscopy, and probably just as comfortable.
Apart from being harassed by perverts and plundered by pickpockets, passengers are also at risk of being flung about within the bus, or worse, off it, as those slow to mount or dismount the footboard can attest to. Furthermore, there is also the uncouth backtalk of conductors and drivers who quite frankly need to learn a lesson or two in common courtesy and customer service.
However, bus operators seem ever willing to strike for fare hikes. Perhaps preceding these demands should be the guarantee of a quality service, one which people feel happy and safe to use. This in turn will cut down on traffic, with owners who are willing to fork out the cash for a vehicle instead of suffering an eternity of public transport hell, opting to hop a bus. And maybe I won't have to turn to my religion each time the bus I am travelling in, with a loud and sustained blast of its horn, prepares to negotiate a tight corner.
A petrified passenger
Via email
Clear and killer date-stamping
In response to the query made by N. Jayasinghe on April 6, in his letter titled Stamped upon, I, as a keen philatelist while thanking him for his interest taken on postal stamps, wish to state that the date-stamping on a postal document serves two purposes. One is for the addressee to ascertain the date and the place of posting. The other is to avoid the reuse of the same stamp by unscrupulous people.
There are two methods of date-stamping known in the postal jargon as "clear" date-stamping and "killer" date-stamping. The correct way is clear date-stamping which shows one third of the date stamp on the stamp without damaging the depiction on the stamp and two third on the cover or the wrapper. (Regret to say that this method is very rare now due to wasted date stamps and/or the negligence of the officers.)
The second method is killer date stamping which shows a smudge of black ink defacing the surface of the stamp. This is of course due to the callous negligence of the officers concerned because they are not aware of the importance of clear date-stamping.
Other than clear date-stamping, there's no alternative to cancel a stamp without showing disrespect to a prominent personality appearing on a stamp.
Lionel de Silva
President,
Kandy Philatelic Society
Open drains: An accident waiting to happen
The dangerous situation that has arisen after the National Water Supply and Drainage Board (NWDB) laid pipelines at the Elakanda junction is causing an inconvenience to both pedestrians and hundreds of motorists that pass by daily.
Elakanda Junction is a hub used by many motorists plying from Negombo, Ja ela and Kandana who take this route to avoid the Negmbo Road traffic to get to Colombo fast through the new Mattakkuliya bridge. Most recently tourist buses too take this route to avoid the traffic on the main Negombo Road.
The drains dug by the NWSDB have been filled with pebbles and sand and each time it rains hard these pebbles and sand get washed away leaving huge gaping holes. One such dangerous open drain is about 4 feet in width and 2 feet in depth. This open drain leaves little room for pedestrians to walk by while two big vehicles like buses cannot pass each other during peak times without creating a huge traffic jam. On certain days water collects – a breeding ground for dengue mosquitoes.
Politicians from all parties and government officials who pass this way on a daily basis turn a blind eye as usual.  I would like to make a humble request to Defence Secretary Gotabaya Rajapaksa to kindly get the relevant authority to repair this drain before any major disaster occurs.
Roshan Perera
Elakanda
Great service amidst glaring lack of facilities and equipment
I was warded at Ward No. 7 of the Dambulla Hospital, following a sudden heart attack on April 8. As soon as I was taken to the ICU the staff including the House Officer (HO), nurses and minor staff rallied round to give me oxygen, drips, and fix the necessary machines. By the time, my children arrived from Kandy, I was well on my way to recovery.
A couple of days later I had the rare opportunity of witnessing the resucitation of a virtually dead person. The same HO, the nurses and minor staff became a single unit, to deal with this emergency. The doctor was shouting for Oxygen, and an attendant came to me, excused himself and took my oxygen mask while another ran towards another ward to bring other necessary equipment, while the HO was pumping the chest of the patient.
As the patient did not respond, the HO had to administer electric shock. The HO asked, "Is everything ok?" And a 'yes' rang out in unison, followed by an "Aiyo" from the patient. Everyone was jubilant.
Even though I was advised not to talk, I said 'congratulations!" It was then that the HO who knew my condition said I was not supposed to witness that. I told him that the curtains and screen was drawn back when the incident occurred and the cleaners were busy.Moreover it was an emergency. He came and checked my condition, and wanted my oxygen restored.
My appeal to the Health Ministry is simple. The staff at this hospital is all competent but they lack facilities and equipment. At the time of the crisis they had to run helter skelter to other wards to get emergency equipment. Even the portable oxygen had to be taken from another ward. This is a sorry state of affairs. Each ward must have its own emergency equipment, medicines and facilities.
On another front a fee-paying toilet facility with commode etc. is an essential need. However much the staff clean the toilets, there are many who do not know how to use them, especially the males. Also when it comes to the squatting pan many old people find it difficult to get up. Therefore it is necessary to have railings fixed to the walls, to assist them to squat and stand.
Dambulla is a Municipality, and hence the status of the hospital has to be elevated to a General Hospital, but I understand there is tug-o-war among the politicos. I leave this to the President and the Minister to solve.
I also take this opportunity to thank the hospital staff for helping me recover.
A.B.Warakagoda
Citizens groups to combat liquor menace
President Mahinda Rajapaksa's 'Mathata Thitha' programme launched after ending the war against terrorism was a welcome move and timely.
However, it was disappointing to see the phenomenal increase in the number of liquor addicts and liquor related-violence and road accidents. Adding to this menace was the detection of drugs and ethanol in container loads.
The formation of citizens groups at grama sevaka levels should be considered to conduct a survey and identify the 'grey areas' from village 'watering holes' to taverns and illicit hooch dens.
The next phase of the survey should be at government and local council offices. This could be done on 'pay days'. Their pay sheets will reveal the amount of loans taken by addicts. Their wives get only a fraction of their monthly salaries and as a result they end up as house maids in West Asia to settle debts or build a house of their own.
The clergy too should get involved in citizens groups.
Senior Citizen
Matale
SriLankan Airlines hits a low in passenger care
Efforts to improve the quality of services and image of SriLankan Airlines do not appear to be reflected adequately at the operational levels. This was evident by an incident at the boarding gate on April 27 – flight UL 195 to Delhi.
Having passed the security checks, I along with my wife submitted our boarding cards to the stewardess at Gate 12. She wanted to see our airline tickets. My wife said that as we had e-tickets hard copies were not in our possession. She refused to allow us to proceed retaining our boarding passes and insisted that she sees the e-tickets in the laptop screen. We had no option but to open up our luggage and comply with her request in order to secure our boarding passes.
As it is unusual to show the tickets at the boarding gate and with the intention of understanding the rationale behind the action of the stewardess I asked another officer at the gate why we were subjected to this inconvenience. He briskly walked away saying that he is not in a position to answer without knowing the facts.
Subsequently a person at the desk introduced himself as the supervisor to whom I posed the same question. I also told him that the airline should not subject passengers to such inconveniences at the gate without prior notice. He in a very indifferent manner said that it is a requirement of the Indian government to ensure that all Sri Lankan visitors to India should have a return ticket and those at the gate were implementing that requirement. He also said that this is done to ensure the safety and the security of all passengers. I firmly told him that I cannot understand the rationale behind this procedure as all our details are available to them in their computers and also was puzzled as to how having a return ticket could impact the security and safety of the travellers.
At this stage he did not appear to have patience to listen to me and said in a rude voice that he has the power and the right to offload me rather than responding to my questions. I was shocked by this response from the person who identified himself as the supervisor as to my knowledge I had not committed any offence to justify offloading. I immediately requested him to give effect to his threat and offload me violating my legitimate right to travel. He did not utter a word and continued his work without paying any attention to my concerns. I then told him that I would bring his unwarranted and unjustified behaviour to the notice of the airline and asked for his name. First he refused to divulge his name and on my insistence he subsequently complied with my demand. Subsequently the situation became a little more confused when I realized that out of the three colleagues who were travelling with us two were not asked to present their tickets at the same gate by the same staff.
As very frequent travellers over the years both of us have met a wide range of airline staff from different airlines. However I cannot recall an incident of this nature where the staff has behaved in a totally unexpected, unfriendly, indifferent and rude manner.Adherence to rules, regulations and procedures should be implemented in a rational, civil and a non-discriminatory manner respecting the concerns and dignity of people. I am not sure whether this unprofessional, unfriendly and uneven behaviour of the airline staff at the gate is a reflection of immaturity, inexperience, overwork and power stricken attitude of mind or a growing malaise of the national airline incapable of training their staff to function in a civilized, user-friendly and even handed manner.
Prof. Nalaka Mendis
Via email