Appreciations
View(s):

A. S. M. Abdul Razak

Dad, this is for you and all that you did for us

A little over ten years ago, on a breezy winter morning in London, I woke up to a call from my Uncle in New Zealand with a much unexpected message for me. At first, he said he wanted to find out how I was adjusting to my new life in the country I had recently moved into. He talked very little, something very unusual from him, inquired on my wellbeing and hung up. Minutes later he rang me up again and this time, I sensed a slight change in his tone as if he was trying to say something. When I pushed him to say it, he broke the most unforeseen news of my Dad's sudden death in Kalmunai a few hours before. There was silence for some time and then I broke down.
My father, Aliuthuman Sheihu Muhammed Abdul Razak, was born on June 3, 1941 and passed away at the age of 62 on March 14, 2004. Born to a very modest family comprising five boys and two girls, he toiled his way in life literally 'burning the midnight oil' from a very young age. He obtained a scholarship to Kattankudy Central College in the Eastern Province to pursue his education and entered the noble profession of teaching. His contribution as a teacher was mainly in Colombo schools, Hameed al Husseini School and Zahira College Colombo.
While in Colombo, he utilised the opportunity to pursue his studies in law and passed out as a successful Attorney-at-Law in 1980 with an impeccable record for his dedication, honesty and hard work. He worked in the Chambers of a leading luminary H.L. De Silva, PC and came to Kalmunai with the primary idea of serving the people whom he loved very much.
"As a lawyer he was loved by all. He never bore malice or ill will against anybody. He did his utmost towards his clients but never sought to take undue advantage over his opponents. He was very kind towards juniors in the legal profession and they held him in high esteem as their pillar of strength. His colleagues at the Bar had so much confidence in him that he was unanimously elected President of the Kalmunai Lawyers' Association. He was also on the panel of acting judges and functioned as Acting District Judge and Acting Magistrate on several occasions and exhibited ideal judicial temperaments. He also proudly represented Kalmunai Lawyers' Association at the Bar Council and functioned as a member of Wakf Board for several years," President of the Kalmunai Lawyers' Association in 2004, M. K. Perinparajah read in a tribute made to him at the District Court, Kalmunai on May 21, 2004.
He added, "He did not confine his activities to the legal profession only. He was the patron and adviser to several religious, social and sports organizations in the area and spent most of his spare time towards the welfare of the needy. At the latter stage in his life, he did venture into local politics at the request of many not for his personal gains but to serve the public in a better way. He was chosen as the Mayoral candidate of a leading party at the abortive local elections".
At the time of his death, my Dad, a Justice of the Peace, Unofficial Magistrate served as the Acting Magistrate at the District Court of Kalmunai
Having got married to my beautiful mother, Ahamed Lebbe Ayesha in 1974, they were blessed with five children, three sons and two daughters and led a very happy life. Unfortunately, the happiness was short lived as my mother passed away in an accident in 1986.From then onwards, my father who chose to be single for the sheer love for his wife, my mother, faced some of the most difficult periods in life. With the task of bringing up five children whose ages ranged from 11 to 4, the next two decades saw him sacrificing much for his children. He sacrificed his wealth choosing to provide the best of education, sacrificed his time in caring for them, sacrificed his sleep, fun, enjoyment to be the breadwinner, and finally health must have taken a heavy toll on him for all his sacrifices. Being a single parent, he took kindness and care as a Father to another level.
As the youngest of the children, whom he fondly described as the 'apple of his eye', I still remember him from a young age, doing all the household chores for us. Dressing me up for school, packing my school bag, cooking, washing clothes, he would do his best to make sure he mitigated or compensated for the loss of a dear mother.
Always cheerful consoling us when we wanted care, helping us with the homework when we grew up, us children were the happiest lot around him. With some fantastic words of wisdom and inspiration and advice flowing through for the kids, he would keep the family motivated through thick and thin until the children felt they needed to achieve in life, not for them, but just for him.
Sad memories persist. But life has to go on. Looking back, now you're gone Dad, all I will now pray for you throughout my remaining life for having gone through the great test on earth, "We earnestly ask Almighty Allah to grant you the highest place in paradise, Jennathul Firdhouse, Aameen!".
- Azhar Razak
Ainsley P. Samarajiwa
The little Red Book that said a lot about him
Evelyn Samarajiva, the widow of the late Ainsley Samarajiva, Attorney-at-Law and former Deputy Commissioner of Examinations told me about a little appointment diary her late husband had kept. She said a few important events of my life too were written in it. She had brought this diary the last few Sundays and didn't see me at church. And it's only last week that I was given a little old-looking red book which reminded me of Mao's Red Book.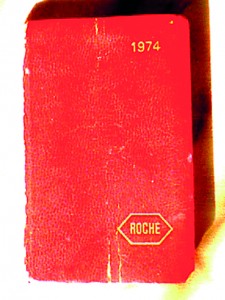 The diary was printed in 1974 in Switzerland, by a pharmaceutical company Roche, to be given as a complimentary gift.
The diary was used in a rather different way than one would usually do – used to record various events from 1974 till 2012! So many birthdays, baptisms, puberty ceremonies, weddings, wedding anniversaries, heart attacks, burials and cremations and daanes (alms giving)…! There's one record of a wedding of two people in a particular year and then underneath that is another entry, written in another colour, obviously after many years later, which says they were divorced in a particular year…. Then there's another one which says, X had a heart attack at 1.20 a.m. and was hospitalised. Three days later, the record goes as: X died. Two days later: X's burial.
The diary carries life events of so many well-known people in politics, trade unions, social service and religious institutions. They were all known to Ainsley. The entries on Ainsley's own family – his children, grandchildren and brothers who were well known in their respective professional fields — are moving indeed: 'our anniversary, (1949 March 7th)…'mother's death at 2 minutes to 5 (pm)'.
Ainsley became a lawyer after retiring as an education bureaucrat, a much loved teacher and respected principal. He was an active human rights defender especially during the 87-89 insurgency period. He appeared, pro-bono, for hundreds of habeas corpus cases, ignoring the risks and consequences. He was a fearless and courageous man with a deep sense of commitment and love towards humanity. Ainsley was associated with the Left Movement since the 1950s and was an active member of many social/political movements. Being a history teacher, Ainsley produced a leading historian like Prof. K.M de Silva as well as a generation of students who remember a youthful teacher who left an indelible mark on their lives. He was not a passive onlooker of history; he worked tirelessly to change the present.
Although Ainsley was not well for a couple of years before his death, his wife, Evelyn, had continued to record events. An entry written by Evelyn on May 9, 2012 in the very same appointments diary Ainsley used goes like this: 'Ainsley died on 9th Wednesday at 12 noon'.
I thought of sharing this with Ainsley's family, loved ones and friends, as we mark the second anniversary of his death. The memory of Ainsley will continue to be an inspiration and role model to all of us.
-Udan Fernando
Mercy Edirisinghe
Merci, for the great laughs
Mercy Edirisinghe passed away on March 17 after a brief illness. The arts circle lost a super star. She was an actress who displayed her talents on stage, cinema, teledrama and radio. She was the queen of the stage and comedy for a considerable period.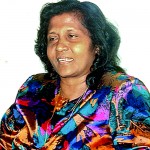 Mercy was a household name and everybody loved to see her playing different roles and singing the popular song, " Moda Geni Mung'. The last role she played was Navaneethan Pillai with The Gypsies. Her passing away is a great loss to her fans.
She was a devoted Catholic who had high regard for Buddhist ethics.
She was a caring sister to her family and one who had many friends.
Although you're gone you will never ever be forgotten. May the soul of dear Mercy rest in peace.
-Hemanthi Ranasinghe
D. Hemachandra de Silva
Of cricket days and long lasting friendship
I would look upon the passing away of D. Hemachandra de Silva as the removal from our midst of a 'small man's man'. To be sure he could walk with kings but he never lost the common touch.
From the beginning he realised that destiny had planned out a role for him in the field of cricket. The university team that played in the Sara trophy in the early Sixties comprised players from Colombo and Peradeniya with the latter receiving stepmotherly treatment. The captain invariably was a Colombo Medical student and his of course was a five-year course as opposed to some others that were of three or four years duration. DH who was also reading Sociology for his degree at Peradeniya was shrewd enough to know that he had to stay another year to have a shot at the captaincy. And accordingly he skipped his final year exam and achieved his ambition. Suffice to say, this was one of the many sacrifices he made for a cause.
I invited DH to bring the Nomads team to Peradeniya for a pre-season two-day friendly match in 1974 or thereabouts. DH liked what he saw of the Peradeniya skipper Mahes Gunatilleka. The next thing we knew was that Mahes was in the Sri Lanka team to tour India. DH had used his clout with the late Abu Fuard to turn water into wine.
When the Peradeniya team was threatened with demotion in the late Seventies I persuaded DH to take up our cause. This he did with alacrity and together with his conmrade in arms Abu Fuard they were able to ward off the Sword of Damocles.
Among his idiosyncracies was that he changed his favourite players every few months. I used to drop in at his office for a chat, on cricket, of course. As I entered his room one morning he surprised me by saying "that fellow is —rubbish!" the 'fellow' concerned had been one of his favourites a couple of months before!
Practising with the state services team at the Nomads grounds one evening, DH who was batting against my suspected offspin stayed proceedings. He advanced angrily and chased out a player who had skipped that morning's PT session conducted by a trainer from the Army. " My finger" the player said, indicating that he had an injury. "No! I wasn't going to do anything to your finger," DH roared. " Get back to your centre and sign the book."
DH's lasting legacy will be the fact that he gave table tennis a terrific boost in Kandy. He made use of his position as Municipal Commissioner to equip the community centres in the municipality with TT tables and equipment. He took a personal interest in this and soon, TT players from Kandy were calling the shots.
Keen on these two sports and also on tennis, DH was sad that none of his three sons went places in cricket. He was proud that his eldest son Mahinda reigned supreme as the National TT champion.
DH did not suffer fools gladly. He had the utmost contempt for those he had helped who later had stabbed him in the back.
I suspect that DH liked and supported me because of our common Peradeniya background. The fact that his wife Sujatha was a colleague of mine for a short time brought us closer.
-Aubrey Kuruppu
Hemantha Wickramatilleke
He brought out the best in everyone
Professor Hemantha Wickramatilleke was a gentleman, kind and thoughtful medical practitioner, responsible and caring husband, encouraging and loving father and, above all, a wonderful, exemplary human being.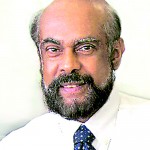 While his death saddens all those who knew him, Providence has been cruel as to deprive the many who did not cross his path for had they, they would have been nourished by his humane, forbearing, patient and loving ways.
Wicky, as I and several of his close friends affectionately called him, was truly dedicated to his work and lived his life by his own values. He was a man of high principles and would not, even for a moment be influenced to do what is wrong. Although we both were products of S.Thomas' College, Mount Lavinia, Wicky was several years senior to me. However we struck an immediate acquaintance in 1985 when he treated one of my children. My wife was struck by his humility, and the effort he took to ensure that we were in a positive mind frame. From that day on, Wicky and I were close buddies until his untimely death.
Wicky had served in several countries and was an expert in the field of Occupational Health and Safety. He dedicated much of his time to community medicine.
Staff of the Family Planning Association said this of him when he served as its Head: "He ensured that both medical and non-medical personnel staff attended his lectures. His Epidemiology work was related to the national SRH status. He cleared up many misconceptions and fallacies with regards to Family Planning via SRH material and awareness campaigns.With his quality of wisdom, practicality, discretion and savvy he became an extremely desirable and approachable doctor.  That is what made the difference!"
I had the good fortune of having dinner with him last year while he was senior lecturer at the John Hopkins School of Medicine, Malaysia. Wicky and I sat in the balcony and enjoyed some whisky although one or two shots at the most was his limit. We did catch up on lost time through our lively chat and Wicky, as usual, motivated me to speak while he listened with enthusiasm. This was another great feature of the man—his ability to bring out the best in others and make them feel good.
His wife, Dilrini complimented him well . They made a lovely couple and they loved each other unconditionally and devoted their attention to bringing up their daughter Roshanthi and son Chandika, with strong values.
That was the last time I met Wicky and as I recall that happy reunion, tears cloud my eyes and sorrow numbs my brain.
May the life he has led influence and shape the lives of the many who had the good fortune to have crossed his path.
-Dr. Nalin Jayasuriya