'Golden songs' from the 'Golden voice'
Kala Korner by Dee Cee
View(s):
Music fans, particularly the ardent Pandit Amaradeva fans are in for a treat with the release of the first album of '50 Golden Songs' of the maestro. The 'Gold Project' has been launched by a group of enthusiasts and the first CD with ten songs has been released. Titled 'Sonduru vuminisa' (title of a song written by Mahinda Dissanayake) it has been introduced as 'A timeless creation by Maestro Amaradeva'.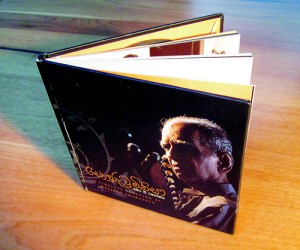 "The 'Golden Voice' of Sri Lanka' has enriched the lives of generations of Sri Lankans for the last six decades. Blending the flavours of folk melodies, the classical and popular music maestro Amaradeva created a unique brand of music that knows no age or boundary," says the Gold Project Committee. "It is however, tragic and surprising to discover that this 'Golden Voice' does not own a single recorded copy of his work."
The Committee's intention is to re-record fifty tracks of Pandit Amaradeva's songs and present it to him and future generations as a reciprocal gesture for what he has given the nation over this long period of time.
The CD is a departure from the normal format, presented as a booklet containing the words of the songs and musical notes of a few, intermixed with photographs of the maestro. It has been artistically designed by well-known art director Wijayabandara of 'The Design Master' with a cover photograph by Sarath Perera.
It would have been a challenging task to select the songs from the hundreds sung by PanditAmaradeva over so many decades. The selections in the first CD see a mix of old and new. They represent a good part of the reputed lyric writers MahagamaSekara('iratamuwaven' & 'sandakathpinidiya')), Sri Chandraratne Manawasinghe ('pathurahosi'), W.A. Abeysinghe ( 'samadhimahime'), Sunil Ariyaratne ('thaththavunath'), Ratnasri Wijesinghe ('suwandamuwarada') and several others. Nalaka Anjana Kumara, one time guitar player in the Amaradeva orchestra, was given the challenging talk of handling the music in the 're-creation' of the numbers for the CD.
"Although our initial goal was to reproduce old tracks, we have deviated from that and gone even further. We were able to bring to you a new collection of songs of the genius. His velvet voice still captures the deepest and fondest emotions of our souls," the Gold Committee states.
Amaradeva Jnr– Ranjana – himself an accomplished tabla player, is the live wire of the Gold Project .
Fans will be looking forward to the regular release of the CDs. They will also appreciate very much if the Committee starts working on a series of DVDs, if they have not already given thought to it. They should be able to negotiate with the several TV channels which have been featuring the maestro and get quality material for such a project.