UN resolution will be passed; no chaos however
By Feizal Samath
BT-RCB poll
View(s):
It is inevitable. A majority of Sri Lankans believe a US-backed resolution against Sri Lanka at this month's UN Human Rights sessions in Geneva on alleged human rights violations will be approved but reckon it won't create any chaos or serious impact on the country.
These are the results of three polls conducted separately this week by the Business Times (BT) and its research partner, Research Consultancy Bureau (RCB) under its ongoing, popular series of ascertaining the people's views on issues on national importance. The polls were conducted through email (BT), on the street (RCB) and online (RCB).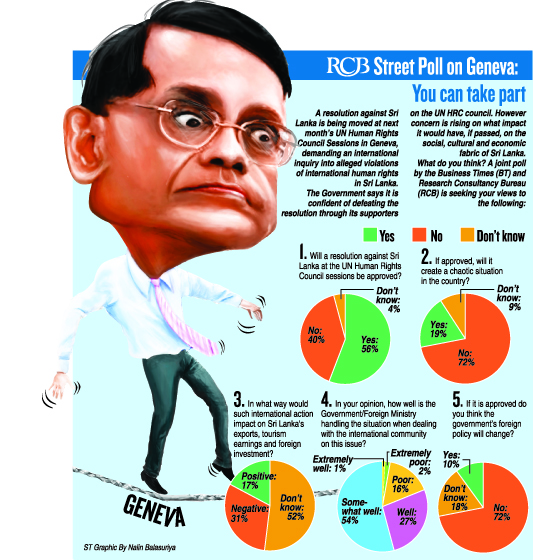 Asked whether the resolution will be approved or not, respondents in the BT poll said it will (77.5 per cent), 55 per cent (RCB street) and 52 per cent (RCB online) said YES. The poll was conducted across a sample of around 1000 respondents in all three categories.
However to the second question, whether an approved resolution would create chaos in the country, there was near unanimity that it would not. 70 per cent in the BT poll said NO while the RCB street poll (72 per cent) and RCB online (41 per cent) agreed. However 41 per cent in the RCB online poll said "YES" (it would create chaos) while 19 per cent were unsure.
A Government delegation led by External Affairs Minister Prf. G.L. Peiris has said it is confident of defeating the resolution through its supporters on the UN council. Emissaries have been sent across the world to whip up support for Sri Lanka.
While there was enthusiasm in participating in the poll, an analysis of the comments reflected a lack of understanding on the 'real' issues facing Sri Lanka. In most cases, respondents said rising problems like cost of living, lack of a 'living' wage and corruption were far more important that happenings in Geneva.
"Geneva is just a sideshow! Even if a resolution is passed it won't have any effect. Ordinary Sri Lankans and entrepreneurs are faced with a multitude of issues like overheads and administrative costs, rampant corruption from the garbage collector to senior administrators and police officers. Just drive on the roads and see true Sri Lankans in action," said one respondent.
Another respondent believed the confrontation between the US/West/India and the Sri Lanka Government will worsen in the coming years. "The former will gradually tighten the screws while the latter will rely on nationalism to counter-attack and to strengthen its electoral base," he said.
Sri Lankan diplomacy also came under strong attack with one respondent saying experienced diplomats like Jayantha Dhanapala, Nihal Rodrigo or S. Palihakkara and many others wouldn't have allowed such a situation to persist. "Our diplomacy was extremely poor. We could have done much better had we used an approach with consistency throughout. Diplomacy it seems is not our strong point," he added.