Hameedia's fashion forecast for real men
View(s):

It was set to be an evening of sleek, futuristic menswear and that it certainly was. But the real star of Concept 2014 was

undoubtedly the cause it supported. Fouzul Hameed's My Friend initiative raised over Rs. 2 million from an auction of three items alone; Colombo, it turns out, is not as tight-fisted as one would imagine.
The debut of what is set to be the FH brand's annual outlook for the upcoming year was an unmitigated success, if the packed Grand Ballroom at the Hilton Colombo last Sunday was any indication. Ten exquisitely tailored collections were launched at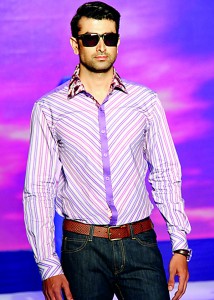 the show, themed under a range of outlooks like tropical brights and London street, all with a touch of the Italian. Interspersed among these were looks for the red carpet, for Bollywood (well, let's be honest-for an Indian themed bash) and dashing suits for the prospective bridegroom (seemingly guaranteed to calm the nerves of any jittery bride). But perhaps the best received was the Parliament collection, which had the models walking down the ramp to the Gypsies' Singnore.
The latter was followed by a thoroughly entertaining Pusswedilla skit by the indefatigable Feroze Kamardeen. There might have been a slight sense of disappointment when initially it was announced that the Honorable Puss had appointed a representative to this esteemed 'Pashion Show', but spirits were soon lifted with the sudden arrival of Dominic Keller's Pusswedilla and Pasan Ranaweera's Cyril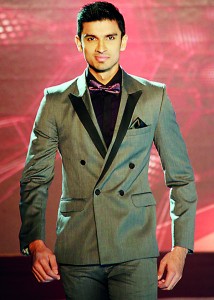 Nitharamasuffering. The cast sashayed down the ramp for the final call.
Fouzul Hameed's fashion forecast for the year ahead was refreshingly modern, optimistically pastel and mercifully sane. There were no mad frills, flares or man skirts -these were suits for real men with impeccable taste-and the wildest thing on the ramp was an exaggerated bow on a tuxedo. Everything we saw on the ramp was tailored for stylish practicality-and as we've come to recognize with any
Hameedias suit-with an acute awareness of male contours and tastes.
The roughly two-hour long show was not only a nod to upcoming trends in menswear-it was also, significantly, a platform to raise funds for Fouzul's My Friend initiative which seeks to make life easier for underprivileged children. During the course of the evening seasoned auctioneer Anil Cooke was instrumental in upping the stakes for a bat signed by the West Indies team, a ball signed by Murali and lastly, another bat signed by the Sri Lankan cricket team, the latter finally being auctioned off at a cool Rs. 1.7 million.
Fouzul also took to the stage to speak about his collection, laughingly noting that his aim for the evening was to "raise awareness about My Friend…and also maybe give you some fairly good suits!" Credit must also be given to the men pulling the strings behind the well-choreographed show, Ajai Vir Singh and Prasad Bidapa (the leading gentlemen of Colombo Fashion Week), along with compere Danu Innasitamby.
-D.I
comments powered by

Disqus