Guardians turning predators on the rise
By Nadia Fazlulhaq
Child protection experts stress the need for screening processes when recruiting teachers, scout and cadet masters, principals, hostel wardens and staff of child care institutions and orphanages
View(s):
Mahara Magistrate Dharshika Wimalasiri last week refusing a request for bail in a case where a teacher had allegedly molested female students, told police they had to be more assertive about child abuse cases and not consider it as a petty crime. 
The magistrate made these comments when the police failed to provide a follow up report in a case where a physical training instructor of a government school in Thambuttegama was arrested by Biyagama Police last month for allegedly taking nude pictures of four female students after taking them to a motel in Biyagama.
The suspect was remanded till October 7. 
According to police the 33-year-old suspect had informed the girls' parents that their 15 year-olds were being taken to Colombo for fitness tests. The suspect had allegedly molested two of the girls. Nude pictures of the schoolgirls were also saved in the suspect's laptop.Similar cases have been reported throughout this year. In one, a tuition teacher offering scholarship examination classes was arrested for allegedly sexually abusing 11 grade four students of a junior school in Galkiriyagama.
Similarly, another suspect who had sexually abused two under-aged girls (11 and 12 year olds) from a school near Kottawa was arrested.  According to police the parents had lodged a complaint after the principal had transferred the suspect to another classroom instead of reporting the incident to police.
In another incident, Yatiyantota police arrested a 35 year-old school teacher for allegedly molesting four grade six students.
There were many reported cases of molestation last year too. A 47-year-old male principal was arrested for allegedly sexually molesting five girls in Marawila and a teacher of a leading school in Veyangoda was suspended and the principal transferred, after there were complaints that some female students had been molested by the teacher.
In another instance Ududumbara police arrested a 53-year-old vice principal for allegedly showing pornography to his students from his computer and allegedly molesting two students aged 13 and 15 years old.
Police also arrested a 35-year-old male tuition teacher in Bodhirama Viharaya, Kotahena for molesting an under aged boy.
Meanwhile child protection experts have expressed concern over the growing trend in sex-related crimes committed by teachers and principals who are considered guardians of a child's second home, the school.
Harendra de Silva, Senior Professor of Pediatrics and former Chairman of the National Child Protection Authority (NCPA) told the Sunday Times a proper screening process should be followed prior to recruiting teachers, scout and cadet masters, principals, hostel wardens and staff of child care institutions and orphanages.
"It is a profession that provides easy access to children and rarely comes under suspicion. Pedophiles can easily enter this field therefore it is important to enforce a screening process. Unfortunately our country does not have a computerised criminal record and any periodical observation and random interviews with students," he said.
He said during his tenure as NCPA head there was an incident where a volleyball coach of a boy's school in Matara molested all members of the under-14 team. Similarly, there was a case of molestation and children being sexually exploited for commercial purposes, by a music teacher and his partner in a leading school in Galle.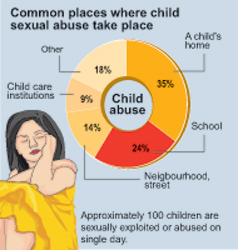 "One suspect died and the other was released after a 10-year prison term," he added.  He said the most unfortunate fallout of such incidents was that school authorities try to conceal such criminals and dismiss the child instead of the teacher.
"Sometimes the teacher is transferred. I even got reports where past pupils insisted school authorities to cover up such incidents. It is a crime punishable under the Penal Code and should be reported to police and legal action,"he said. Prof. de Silva said even amendments to the Penal Code states that priority should be given to child abuse cases.
He said sex education programmes in schools have been a failure as teachers refuse to use such handbooks.  "There should be separate programmes for primary, middle and upper classes. Some younger children are unaware they are being molested," the former NCPA Chairman said.
Sociologist and another ex- chairman of NCPA, Jagath Wellawatte said Sri Lanka had laws but much had to be done in implementing them as well as in creating awareness among the people.  "Even in some instances, police consider a case related to child rape, as one that can be settled easily. But a crime against a child is similar to a murder that can haunt the child throughout his or her life," he said.
He said a teacher's job should not merely be a post offered by politicians or a remedy to reduce the number of unemployed graduates or fill vacancies in rural areas.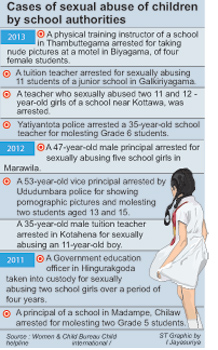 Additional reporting by Mahara Court Correspondent Ganidu Rochana Samaratunge
comments powered by

Disqus