Crafting creative hands among schoolchildren for a productive outlook
View(s):

The Traditional Industries and Small Enterprise Development Ministry is to promote handcraft in schools to ensure a positive environment for schoolchildren, said its Deputy Minister Weerakumara Dissanayake.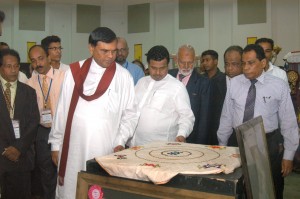 He said this with reference to the Shilpa National Exhibition held at the Sirimavo Bandaranaike Memorial Exhibition Center this year, where hundreds of craftsmen showcased their products.
"This was a very successful event, at the end of which the craftsmen were able to sell almost all their products. So we believe that there is a high demand for this subject where students will be benefited in many ways," he said.
He said that most principals and teachers who came for the exhibition, requested them to conduct classes in schools as well, as the growing demand for this subject prompted them into promoting local handcraft within schools.
The Deputy Minister explained that when handcraft is introduced it would enable students look at school work in a different perspective.
"Our children's psychology will also be developed through this and help increase their employability."
Minister Dissanayake said that tourists show great interest in purchasing Sri Lanka's craftwork, and as the country's tourism industry is growing, school leavers will be assured of employment if they are interested in going ahead in this field.
He said that the ministry also hopes to promote local raw materials used in making different art and crafts. "First we are teaching students to work with waste material. Teach them how to turn an unwanted piece of cloth, paper or even a plastic bottle into something attractive and useful. Later, we hope to work with handloom and other local products," he said.
Minister Dissanayake said that most school children are not familiar with local craftwork, which is a sad situation in a country with a rich culture and art and crafts that could help develop people's livelihood.
However, the ministry is still to discuss with the Education Ministry regarding the project.
"We have already started this project in a school in the Hokandara area where students and their parents come and learn under an expert in the subject, and it has been very successful."
He said that a craftsman could earn over Rs 20,000 per month, which could gradually go up to Rs 200,000 or more with experience and expertise. "Why should we not use this opportunity to fight unemployment within the country? This way our children will have their own means of earning."
comments powered by

Disqus