Blaring horns to be silenced with fines as per recent regulations
View(s):

The increasing number of complaints from guests of tourist hotels against loud vehicle horns have forced authorities to take prompt action against users of such horns under the Motor Traffic (Vehicle Horn) Regulations gazetted recently.  Environment Minister Susil Premjayantha told the Sunday Times, that the Central Environment Authority (CEA), the Motor Traffic Dept (MTD), the Customs and the Police have been told to implement the regulations as soon as possible, as the Environment ministry is receiving more complaints on the use of loud horns in vehicles.

CEA Director General (DG) Dr Saranga Alahapperuma said that noise level monitoring meters will be given to the Police and the MTD to identify such horns and take action. Among the complaints, most are against buses and tipper lorries.  He said that a one-month grace period will be given to replace the modified loud horn.

The gazette states that vehicle horn noise should not exceed 105 decibels at a distance of 2 metres and 93 decibels at a distance of 7 metres.  "Horns are to be tested both at 2-metre and 7-metre distances," the DG said.  Those in violation of the provisions of this regulation gazetted under the National Environment Act, will be fined between Rs. 500 and Rs. 3,000.

Legal action will also be taken against companies involved in altering horns.  He said that three-wheeler unions have conducted a study on the exposure to loud horn noises and have revealed that almost all three-wheeler drivers are suffering from hearing problems.

According to Dr Alahapperuma, ambulances, trains and vehicles belonging to the fire brigade, police and armed forces will not be included in this regulation.  Motor Traffic Department DG, S.H. Harischandra said impromptu raids will commence along with the police at several main roads.

He said that orders have been placed to bring down several noise level monitoring meters from Europe.  Mr. Harischandra said the Customs have been told to check the in-built horns in vehicles at the port of entry and to remove them if there are modified loud horns.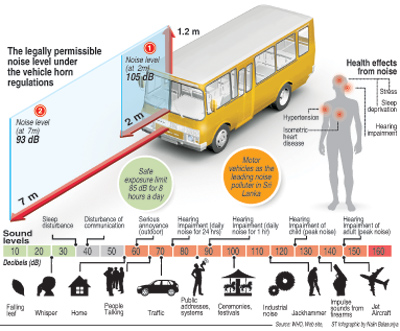 He said that loud horns are an indication of an impatient driver and it contributes to speeding.  "There have been many motorcycle and three-wheeler accidents caused by loud horns in buses," he added.  Chief Medical Officer of the National Transport Medical Institute, Dr (Mrs) K.S.M. Samarasekare said that, not only drivers and passengers, but those residing along main roads experience hearing defects, while long-term exposure to loud horsn noises can result in permanent hearing loss.
"These loud horns meant for only emergency services, fitted to passenger transport services like buses, can trigger heart ailments, cause headaches and increase stress levels," she said.
comments powered by

Disqus