'Viva La Diva' : Debut concert of Contempo's
View(s):

'Viva La Diva', Contempo's debut concert, with a true 'diva' musical experience will be staged at the Russian Cultural Centre, on the 7t and 8 June at 7.30 pm.  'Viva La Diva', is a celebration and a tribute to legendary female artistes by an all female ensemble of twenty-two, who bring to life all-time hits of Madonna, Lady Gaga, Tina Turner, Celine Dion and Barbra Streisand in true 'Contempo' style.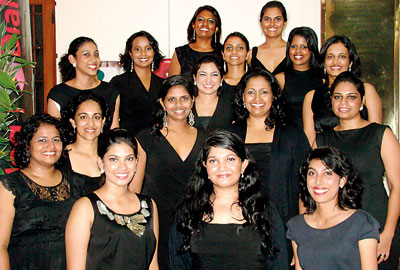 Eshantha Pieris, renowned, versatile musician and director of 'Contempo' shares musical direction for 'Viva la Diva' with Dilini Perera, an award winning soloist and member of Contempo. The ensemble's diverse repertoire includes soulful spirituals, jazz, ethnic Sri Lankan music, semi-classics, pop and rock' 'Contempo' specializes in four to six part arrangements of original songs with a 'contemporary' touch in keeping with the essence of the name, 'Contempo'.
'Contempo' is a product of eclectic past pupils of St. Bridget's Convent ranging from those who have just left school to those with forging careers in fields ranging from teaching, arts, fashion, finance, marketing and law, whose undying passion for singing and loyalty to the 'green and white' has served to bind them together in song since 2001.
'Contempo' has taken spotlight in several outstanding productions such as 'Old Joes' Evolution' in 2004 and 'Inspired' by Natalie Gooneratne in 2008. The male chorus 'Choro Benedicte' joined Contempo in 2009 to sing in one accord at the choral recital "September".
The choir has also been featured in other noteworthy productions such as 'Ämore' by the Old Joes' Choir and the memorable Christmas Concert of the Symphony Orchestra conducted by Eshantha Pieris. In January, winning their first accolade, being placed first runner up at the Annual Choral Festival organized by the Institute of Western Music and Speech, Contempo is gradually making its mark in the musical scene of the island taking spotlight for its unique style of singing.
Tickets are priced at Rs. 800 and are available at Park Street Mews.
Follow @timesonlinelk
comments powered by

Disqus