Cuban cinema for solidarity
View(s):

Cuban Solidarity Film Festival and Mini Exhibition, with film screening and campaign to free five Cuban nationals, 'Cuban Five' who have been held in America for last 15 years — will kick off from Monday, June 3.  Three-day film festival and exhibition starting from June 3 at Sausiripaya Auditorium, Wijerama Road, Colombo 7 is organised by Sri Lanka-Cuban Friendship Society in association with Cuban Embassy.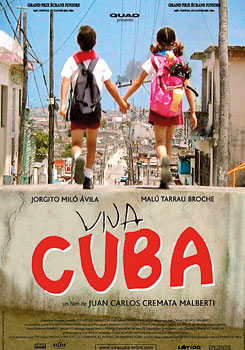 The film screening at 4.30 pm start with a Cuban documentary film followed by a lengthy feature. On June 3, 'Viva Cuba', a 2005 Cuban film, directed by Juan Carlos Cremata and Iraida Malberti Cabrera which tackles the localized Cuban problems from the literal point of view of the country's children will be screened. It is the first Cuban film to be awarded the 'Grand Prix Écrans Juniors' for children's cinema at the 2005 Cannes Film Festival.
A Cuban independent film, 'Viva Cuba' explores emigration and the effects it can have on children who have to leave friends and extended families behind. Youngsters are often uprooted without being consulted and then must contend with their new surroundings. In one scene, Malú and Jorgito discuss when they might reunite. The best they can hope for is to forget one another as their lives change and they face new pleasures and challenges.
On June 4 Cuban feature film 'Underground' will be screened.  On June 5, film 'Habanastation', a 2011 Cuban drama film directed by Ian Padrón will be screened. Filmed in a slum in western Havana, the film addresses inequalities in Cuba through the relationship between two children of different social strata.
Starting at 3 pm, throughout the festival a petition will be signed to 'free Cuban five'.
Follow @timesonlinelk
comments powered by

Disqus