The Guardian quotes ST on Cameron's Rolls-Royce diplomacy
View(s):

'Rolls Royce diplomacy' of Britain and its co-relation with CHOGM exclusively reported in the political column of this newspaper last week has figured in last Friday's The Guardian newspaper published in the UK.

This is what it says (extracts):

Rolls-Royce to provide engines for SriLankan Airlines refit  Campaigners urge Rolls-Royce deal not to influence UK's diplomatic position over human rights in Sri Lanka Rolls-Royce is expected to provide the engines for a multi-billion dollar refitting of SriLankan Airlines planes – but this must not influence the UK's diplomatic position over human rights in the south Asian country, campaigners say.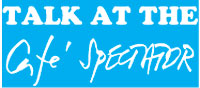 The deal has emerged at a time of mounting controversy over Sri Lanka's hosting of the biennial Commonwealth Heads of Government Meeting in November, despite allegations that it is intensifying a crackdown on critics and increasing human rights abuses.
The British government has remained tight lipped over whether David Cameron will follow the lead of the Canadian prime minister, Stephen Harper, who is poised to boycott the summit unless he sees progress from Sri Lanka in addressing human rights concerns.
With the UK yet to decide whether to attend, Sri Lankan media have now linked the UK's attitude to the summit to a decision by the Sri Lankan government to opt for a $2.5bn (£1.6bn) contract for the supply of Airbus aircraft, which will all be fitted with British-made Rolls-Royce engines.
"The wheels turn for Sri Lanka at CMAG: But there is a price to pay" ran the headline in Colombo's Sunday Times newspaper in the wake of news that the Commonwealth Ministerial Action Group (CMAG), the body's human rights watchdog, was recommending no action on the summit following its meeting in London last Friday.
Quoting "diplomatic sources in London", the report said that David Cameron's Government was "weighing in favour of trade as part of its foreign policy pursuits". "Such a major trade deal was given the green light when the [Sri Lankan] Cabinet met for its weekly meeting on April 18," it said, referring to the aviation contract.
SriLankan Airlines is set to retire its fleet of long-haul aircraft, reportedly replacing it with six Airbus A330-300 aircraft, at a cost of over $234m each, with Rolls-Royce Trent engines, and four Airbus A 350-900 with Rolls-Royce XWB engines, at a cost of over $283m each.
"The aircraft would be acquired over the next seven years," a Sri Lankan government official told the French press agency, AFP.
Rolls-Royce said that it was not making any comment on reports of the deal. A spokesperson for the Foreign Office said that a decision had yet to be made on whether the UK would attend the summit, and if it did, who would attend.
"The decision to hold the meeting in Sri Lanka was taken by the Commonwealth as a whole in 2009 and reaffirmed in 2011. We respect the collective will of the Commonwealth," he said, adding that the meeting was an opportunity to put the spotlight on Sri Lanka, human rights concerns and efforts to improve peace and security.
Asked to what extent trade ties with Sri Lanka, such as the aviation deal, were a factor, he said: "Obviously, you have to separate the bilateral relationship with Sri Lanka from CHOGM. They are aligned but our decision on CHOGM will be a result ultimately of what our objectives are for that meeting. Our relationship with Sri Lanka is not defined by one meeting"
The opposition has stepped up pressure on the Government to state how it would approach the controversy surrounding CHOGM. Ann Clwyd, a Labour MP and member of the Foreign Affairs select committee, said that holding CHOGM in Sri Lanka sent the wrong signal on the country's human rights situation, which she described as "appalling".
On the question of trade ties as a factor in the UK government's deliberations, she said: "People shouldn't be forced to give up values on the trade altar. Trade is important in terms of jobs in this country. It's always a difficult issue for people to speak about but I would say that it really should not be used as a bargaining tool."
Douglas Alexander, Labour's shadow foreign secretary, said: "We have repeatedly said that, whilst the Sri Lankan government fails to meet its international obligations, the British government must use the prospect of the forthcoming Commonwealth meeting in Colombo to pressure them to do so.
"The prime minister must urgently raise with the Sri Lankan government the need for a full, independent, international investigation into the allegations of war crimes committed by all parties. Withholding his attendance at the conference until progress has been made is one of the tools at the Prime Ministers disposal."
Chris Nonis, Sri Lanka's High Commissioner, this week defended plans for the summit and blasted Amnesty for producing a report he dubbed a "fascinating piece of fiction" based on third party news reports and website. He told the BBC Radio 4 Today programme on Tuesday: "I'm sorry to say that as usual, Amnesty International has carried out its usual propaganda exercise of misinformation and hearsay.
"We are a sovereign country just as Britain is… after we achieved peace in the country, we have a wonderful opportunity to reconcile.
"We have absolutely nothing to hide. "That's why we particularly welcome everyone, 54 heads of state, to come to the Commonwealth Heads of Government meeting and see for themselves."
Biting sarcasm over Lanka's diplomatic cook
Our report last week on the Commonwealth reception hosted by the Sri Lanka Mission to the UN triggered several responses, mostly laced with biting sarcasm, from former career diplomats. The comment in our story that generated the most responses was attributed to an unnamed expatriate who jokingly told Deputy Permanent Representative, Major General Shavendra Silva, that the food prepared by his Army cook was so delicious that the cook should be "upgraded" to the status of a diplomat.
In an email message to the Sunday Times, one diplomat wrote that Sri Lanka's Foreign Service has been so "pathetically politicised and militarised" that upgrading a cook to a diplomat would be "unfair to all cooks". Another diplomat wrote that the current crop of overseas officers, particularly the political appointees, were so appalling that the cook should really have been "downgraded" to a diplomat, not upgraded.
They both blamed the pathetic state of Sri Lanka's foreign service on the current regime, and specifically a politically spineless minister who is more than willing to do the bidding of politicians. "If he cannot do his job or has abdicated it to another politician," one of them wrote, "he should do the right thing and quit."
UPFA procession starts early to beat Raahu
The UPFA's May Day procession was to begin at Nelum Pokuna Mawatha (former Green Path) and proceed through Horton Place to Campbell Park in Borella.
Western Province Chief Minister Prasanna Ranatunga who was at the scene said it was not good to begin the march at the scheduled time of 1 p.m. He said it was "Raahu Kalaya" or an inauspicious time. So they began the march at 12.55 p.m.
Along the route, it was Economic Development Minister, Basil Rajapaksa who put in place additional precautions when the procession proceeded past 'Jefferson House', the official residence of the US Ambassador. It passed the residence without anyone shouting any slogan against the US.
ADB tells its girls: Don't wear short dresses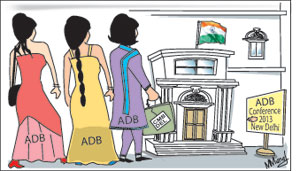 Whilst in India, do not show bare legs or wear short dresses. This could hurt Indian sensitivities and could lead to sexual harassment.
The advice went out to member countries of the Manila based Asian Development Bank. The ADB was hosting its annual meeting in the outskirts of New Delhi.  Sri Lanka was represented at the event by Minister Sarath Amunugama.
Some light on Parliament candles
The recent candlelight protest in the hallowed precincts of Parliament has set a security poser.
How were the candles smuggled into the chamber? Though late, Police now have the answer. The candles came in the handbags of some female opposition Parliamentarians. At the metal detector, the candles in the bag did not show up on its screen. So, they were promptly cleared.
Ex-Speaker's son for the road
Young Badulla District UPFA Parliamentarian Udith Lokubandara had a swipe at his father at a public rally at Weerakoongama in Haputale.
Former Speaker W.J.M. Lokubandara, he said, could not build a road to Weerakoongama when he was in the UNP administration. That was for 32 years. However, the son said that after he became an MP of the UPFA, he was able to get the seven kilometre long road within just three years.
That is the difference between the UPFA and the UNP, said young Lokubandara.
Namal's stage collapses
It was a loud bang but not one that was connected with May Day activities in Talawakele. The Upcountry People's Front (UPF) was holding its rally. The guest of honour, UPFA Parliamentarian Namal Rajapaksa, was due to get on to a crowded stage. Among those already seated there were Shanthini Chandrasekeran and V. Radhakrishna, MP.
The crowds that thronged were shouting "Jayawewa, Jayawewa" at young Rajapaksa when the loud bang came. The stage collapsed. Fortunately no one was hurt. The young Hambantota MP left for another rally thereafter.
Senior EAM official on juniors' wagon to China
The Chinese Government is now increasing Foreign-Ministry-to-Foreign-Ministry contacts with Sri Lanka. Just last month, no less than eight officials from Sri Lanka's External Affairs Ministry took wing to China on account of programmes fully funded by the Chinese Foreign Ministry.
While the sponsored programmes are mainly intended for lower and middle level officials, eyebrows have been raised when a senior official who had spent all her life in the West and UN agencies tagged along. One wag cracked that she was only following the Government's "Look East" policy.
Rupavahini's moment of panic while MR was speaking
State television Sri Lanka Rupavahini Corporation (SLRC) was providing live coverage to UPFA's May Day rally.  The state-owned Independent Television Network had also linked its channels to SLRC. The coverage was underway and President Mahinda Rajapaksa was speaking. Suddenly TV screens went blank.
There was panic as technicians checked. It turned out that an official in the media unit had accidentally pulled a plug. It was soon restored.
Raj shares hospital with Boston bomber
Raj Rajaratnam, the Sri Lankan-born hedge fund billionaire who was sentenced to 11 years in a federal prison on charges of fraudulent insider trading, has remained in a federal medical centre in the state of Massachusetts. Since last week, he has been in the not-so-distinguished company of one of the surviving Boston bombers.
The 19-year old Dzhokhar Tsarnaev, whose brother died in a shoot-out with police following the bombing during the Boston marathon last month, is being treated at the same federal facility for gunshot wounds in his throat, head and legs.
Since the hospital rooms resemble prison cells, there is little or no chance the Sri Lankan hedge fund honcho and the Boston bomber would cross each other's paths. But the security around the facility has been considerably strengthened.
According to an article in the Wall Street Journal, Rajaratnam may require "indefinite" treatment because of his chronic medical conditions, including kidney disease that requires dialysis treatment.
As it stands, he will continue to remain in the federal medical centre and avoid, as luck has it, serving his sentence in a real prison cell in a federal penitentiary.
Phony moves by politico
A politician heading a minority party, now in the news, persuaded some of his supporters to give up the mobile phones linked to a State operator.  This was because the service provider sold a ringtone from the Bodu Bala Sena (BBS).
Thereafter, the man telephoned another service provider and said he had managed to get a large segment of subscribers to give up their connections.
The matter did not stop there. Thereafter, he urged that he be given three phones free of charge for the service he had done.
Follow @timesonlinelk
comments powered by

Disqus