Threatened species served up as delicacies for Chinese palates
View(s):

By Malaka Rodrigo

Crocodile, tortoise and pangolins were being cooked in numbers at a restaurant in Hambantota and served up to Chinese workers at Hambantota Port who had flocked to the eatery to munch on the protected fauna they viewed as delicacies.

Local residents yesterday said the Hambantota restaurant had attracted crowds of Chinese nationals working in the area.  The restaurant's Chinese owner, who initially claimed he had not known it was illegal to kill and serve up protected fauna in Sri Lanka, later accepted responsibility and was fined Rs. 320,000 after officers of the Hambantota Wildlife Range raided the restaurant on March 21.
The owner said the animals were regarded as a delicacy in China and that killing and eating them was allowed in that country.

Wildlife officers found 10kg of crocodile meat, 2kg of tortoise meat and 1kg of pangolin meat. The tortoise was cooked and about to be served at the time of the raid. While these animals have long been eaten by a minority of locals in the belief that the flesh has medicinal qualities, the Chinese find the animals to be a particular delicacy.

The Hambantota restaurant owner confessed that the meat he sold illegally had been supplied by locals. Conservationists fear the increased Chinese workforce in Sri Lanka and tourists from China could create a specific demand for these animals and that organised gangs could begin forming to supply the meat in commercial quantities.

The worry is also backed by other recent raids. In last February, it was reported that a Chinese national working at Hambantota port had been caught in Weligama, transporting six tortoises to Colombo.  Again in February, Norochcholai police arrested two Chinese men for killing a tortoise they planned to cook and eat.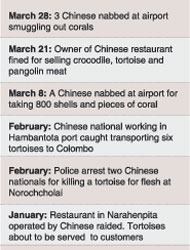 In January, a restaurant in Narahenpita operated by a Chinese national was raided, and the Sunday Times reported at the time that police found live tortoises being prepared for the menu.
Environmentalists have praised the wildlife officers and police for their vigilance in cracking down on such crime but point to a need for preventative programmes in areas where there is a demand for this flesh.
China is the largest consumer of endangered wildlife flesh and products. Demand for elephant ivory, rhino horns, tiger parts and shark fins in East Asian countries with Chinese populations are pushing some of these endangered animals – some of which come from countries thousands of miles away – towards extinction.
It is feared this situation will only worsen as a dread combination of old customs and traditions together with new money, conspicuous consumption and powerful new aspirations drive a massive expansion in the consumption of wildlife parts and products in China alone.
The problem for Sri Lanka's wildlife is that some of the many Chinese nationals working on local projects would not be aware that killing protected species is unlawful given that this flesh is readily available in China. Conservationists hope this would not fuel a similar desire for such flesh among Sri Lankans because the protected animals would be killed in even greater numbers.
Officials note that the consumption of protected species would not exist but for the presence of local poachers and say these rackets need to be stopped.
Corals shanghaied by  Mattala  workers 
Three Chinese nationals working at Mattala Rajapaksa International Airport were caught trying to smuggle 24 sets of coral to Shanghai.
They were stopped at Bandaranaike International Airport at Katunayake by Customs officers, and a search revealed the smuggled goods, which had been carefully wrapped in wet cloth in the men's luggage.
The corals had been skilfully extracted from the seabed without any damage to their base. Oysters were also found in the luggage.
The three Chinese told Customs during the search operation on March 28 that they were workers at Mattala Airport and had collected the corals off the southern coast.
They pleaded not knowing that taking corals was an offence. The men were later released after a severe warning and allowed to resume their flight to Shanghai.  On March 8, another Chinese was caught trying to smuggle out about 800 shells and pieces of coral. The Customs Biodiversity Unit said some of the shells belonged to protected species.
Follow @timesonlinelk
comments powered by

Disqus