Pope Francis I: Perfect conclave candidate
View(s):

VATICAN CITY (Reuters) – The cardinals who elect the pope are sworn to secrecy about their deliberations, but details began to filter out on Thursday about how rank outsider Jorge Bergoglio quickly emerged as a frontrunner to replace Pope Benedict.

Bergoglio was a runner-up to the then Cardinal Joseph Ratzinger at the 2005 conclave that made Ratzinger pope. But he was not even mentioned in many media long lists of the likely papal candidates or "papabili" this time around.

In the arcane world of papal conclaves, keeping below the parapet until the last minute is, however, considered an advantage. "Enter as a pope and come out as a cardinal" is the saying in Rome, describing how frontrunners leave disappointed.

Bergoglio, a Jesuit known for his humility, lack of pretension and frugality, seems to have had the two qualities that the cardinals had said they were seeking – pastoral skills capable of revitalizing the Church and the potential to bring its dysfunctional government or Curia under control.

He appears to have benefited from anger and resentment among world cardinals about the rivalry and infighting inside the Curia, which sapped the strength of the traditional powerful Italian voting bloc – almost a quarter of the cardinal electors.
This is believed to have undermined the chances of Milan Archbishop Angelo Scola, one of the two frontrunners before the conclave, alongside Brazil's Cardinal Odilo Scherer.

The Curia problems are widely seen as the fault of a scheming group of Italian prelates close to Vatican Secretary of State Tarcisio Bertone.

Brazilian Cardinal Joao Braz de Aviz had an open argument in one of the pre-conclave congregations with Bertone after the latter accused him of leaking verbatim details of their deliberations to the Italian media.
Braz de Aviz got a round of applause from other cardinals when he jumped up, denied the charge and said he believed someone from the Curia had done it.

The 115 cardinal electors were focused on finding a pontiff capable of facing a crisis caused by a global scandal over priestly child abuse, the "Vatileaks" case that revealed the rivalry and alleged corruption in the Curia, and the rise of secularism, particularly in Europe.

"We were looking for a pope who was spiritual, a shepherd. I think with Cardinal Bergoglio, we have this kind of person," French Cardinal Jean-Pierre Ricard told journalists on Thursday.

"He is a person of great intellectual character who I believe is also a man of governance."

FRANCIS QUICKLY EMERGED

Vienna Archbishop Christoph Schoenborn confirmed that Bergoglio had quickly emerged as a very strong candidate, winning election after only five ballots by cardinals ensconced in the Renaissance Sistine Chapel. This is only one more than Benedict, who was a very clear frontrunner in 2005.

"I won't tell you how our talks went; that is an internal thing. You can say one thing with certainty, Cardinal Bergoglio wouldn't have become pope in the fifth ballot if he had not been a really strong contender for the papacy from the beginning," Schoenborn told reporters.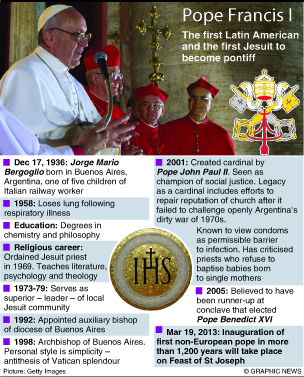 "You can use your own wisdom to judge that a conclave that lasts little more than 24 hours, one of the shortest in the history of the papacy, shows great unanimity, great togetherness and a strong common view on who we think at this point that God has designated as the follower of Peter," he said, referring to St. Peter, revered by Catholics as the first pope.
Bergoglio kept a low profile going into the conclave. All cardinals from around the world have a "titular church" in Rome, but Bergoglio did not attend Mass at his last Sunday on the eve of the conclave, unlike frontrunners Scola and Scherer, who faced crowds of journalists among their congregations.
During the last conclave in 2005, Bergoglio abandoned his bid to be elected pope, withdrawing when it was clear Ratzinger had an overwhelming vote in the third round.
Insiders said he had never appeared to be seeking the papacy this time.
His Jesuit order was established in the 16th century to serve the papacy, and it is very rare for its members to take senior Church jobs. Bergoglio was the only Jesuit in the conclave, and several members of the order in Rome have expressed astonishment that he was elected pope.
The Argentine cardinal also boosted his chances, like Ratzinger in 2005, with an address to colleagues gathered in pre-conclave "general congregations" that impressed them with its presentation of the problems facing the Church.
The resentment against Italians inside the Curia is also likely to have encouraged the decision to appoint the first non-European pontiff in nearly 1,300 years and bring in an austere prelate from Latin America, home to nearly half the world's 1.2 billion Roman Catholics, with much greater communication skills than Benedict.
Carlo Marroni, the respected Vatican correspondent for the Italian daily Il Sole 24 Ore, said the votes in the cardinals' first ballot on Tuesday evening were split between Scola, Canadian Cardinal Marc Ouellet and Bergoglio, with the latter slightly behind.
But overnight, support for Bergoglio grew and continued to climb during the two ballots on Wednesday morning and the first in the afternoon, he said.
By the day's final ballot, the fifth, Bergoglio had won, pulling in the votes not only of the Latin American cardinals but a large group loyal to Ratzinger that had supported Scola, Marroni said.
There are strong expectations in Rome that Bergoglio will tackle the Byzantine bureaucracy but in a subtle rather than confrontational manner.
A cartoon on the front of the Corriere della Sera daily showed Bergoglio surrounded by alarmed cardinals on the balcony of St. Peter's Basilica, saying: "My brother cardinals surprised me, but that is nothing compared to the surprise I will spring on them."
His frugal ways, concern for the poor and common touch are expected to be a sharp contrast with his aloof, intellectual predecessor. He sent a clear signal with his decision to take the name of St. Francis of Assisi, who spurned wealth to pursue a life of poverty.
The Latin American Church is focused more on fighting inequality and poverty and the rise of evangelical churches that woo away its faithful, rather than on the materialism and sexual abuse that dominate concerns in the West.
Like most of the cardinals in the conclave, Francis is as orthodox theologically as Benedict, and no major change in Catholic doctrine is expected.
But his practical style and focus are different and may appeal more to average Catholics than the retired pope's approach.
No throne, thank you: Vatican braces for unscripted papacy
VATICAN CITY (Reuters) – The Vatican, an age-old institution used to having almost everything done by the book, is bracing for the unscripted papacy.
In less than 24 hours after he became the first non-European pope in some 1,300 years, Francis seemed to break more rules than his predecessor did in eight years.
"We are going to have to get used to a new way of doing things," said Father Tom Rosica, an amiable Canadian priest who runs a Catholic television station in Canada and was drafted to Rome to help with the media influx during the papal transition.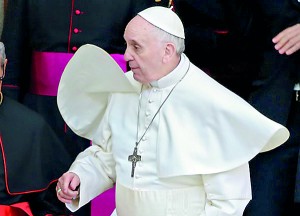 Indeed, the first words out of Francis' mouth after he became pope sent a signal that things would be different.
He did not start by using the customary "Praised be Jesus Christ" or "Dear brothers and sisters", but employed a much more familiar and inviting "Buona Sera" – good evening in Italian – to address drenched crowds in a rain-swept St. Peter's Square.
"I was stunned by what happened last night. I didn't expect a pontificate to begin with 'Buona Sera,'" Rosica said.
On the morning after his election, the Vatican was scrambling to meet the needs of a new-style papacy.
"We have to have patience, we are starting something new. There are a lot of things we don't know yet," said Father Federico Lombardi, the chief Vatican spokesman, as he faced a barrage of reporters' questions about what to expect.
The answer is probably: expect the unexpected.
Even before he delighted the crowds with his unorthodox style on the balcony of St. Peter's Basilica, Francis give a hint of a new style to his fellow cardinals.
While he was still in the Sistine Chapel, his aides had set up a throne-like chair on a platform for him to sit on while the cardinals pledged their obedience one at a time.
Instead, he came down to their lower level and remained standing while they each greeted him.
Less than an hour later, he shunned the papal limousine that was waiting to take him to a Vatican residence for a meal.
"And as the last bus pulls up, guess who gets off? It's Pope Francis. I guess he told the driver 'That's OK, I'll just go with the boys,'" said Cardinal Timothy Dolan of New York.
The only difference between him and the cardinals was that he was no longer wearing their red robes, but white.
There was more unorthodox papal behavior on Thursday morning when Francis returned to the Church-run residence where he had checked in as a cardinal for the conclave. He insisted on paying his hotel bill, despite now being the boss.
"He wanted to get his luggage and the bags. He had left everything there," a Vatican spokesman told a news briefing.
"He then stopped in the office, greeted everyone and decided to pay the bill for the room … because he was concerned about giving a good example of what priests and bishops should do."
The spokesman did not disclose the amount of the bill.
Jorge Bergoglio brought a reputation for frugality from his native Argentina, and is the first pope to take the name of St. Francis of Assisi, who preached the virtue of living in poverty. The name is seen as a gesture of solidarity with the poor.
While his predecessor Pope Benedict almost never made unprepared remarks, the Vatican said it had no text of a homily the pope was to read later that day at a Mass: "We just don't know what he is going to do yet," Lombardi said.
Reporters asked: Will he travel? And where to?
Lombardi said he expected the pope to visit his Argentine homeland eventually and almost definitely to go to Brazil in July for World Youth Day, a Catholic festival that takes place every two years in a different city.
Asked about how Vatican security would respond to a pope who did things differently, making decisions at the last minute, Lombardi said: "That's a good question. Vatican security are at the service of the pope and will have to adapt themselves to the pastoral style that the pope will use," he said.
"A pope's personal style has to be respected," he added.
Follow @timesonlinelk
comments powered by

Disqus