Elephant day
View(s):

Introduced to raise awareness, 52 Thai elephants celebrate national day in their honour with all-you-can eat buffet

By Sara Malm

Elephant fans have gathered in Thailand to celebrate the annual National Elephant Day honouring the tusked beasts.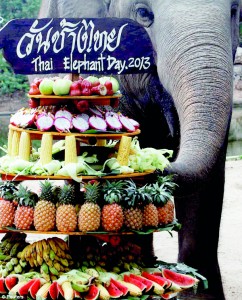 In Pattaya resort, Chonburi province, 52 elephants were treated to an all-you-can-eat fruit buffet to mark the day.
A senior mahout, the Thai name for a professional elephant rider, blessed the animals with holy water before the annual event at the resort.
Events will be held all week in order to draw attention to the efforts to save the species and protect their shrinking habitats in Thailand.
Over the past decades Thailand has seen a sharp decline in wild animals, currently estimated at less than 3,000. Yesterday the U.S. ambassador to Thailand, Kristie Kenney, called on the nation's government to prioritise the problem of poachers targeting elephants in the wild. Ms Kenney said the Thai government needs to issue clear-cut rules and regulations in order to save the endangered species, Pattaya Mail reported.
Visiting an Elephant Conservation Centre in Kanchanaburi province, Ms Kenney said it was a 'good sign' that Prime Minister Yinkluck Shinawatra had pledged to take action against ivory trade, but that further regulations to protect elephants needed to be 'urgently addressed'. The Asian elephant can be found across Asia from India to Borneo. There are three subspecies spread across Asia: the Sumatran, Sri Lankan and the Indian elephant.
It is smaller in size than it's African relative and has been listed as an endangered species since 1986.
The biggest threats against its population is the destruction of the Asian elephant's natural habitats from expanding populations and infrastructure, as well as poaching.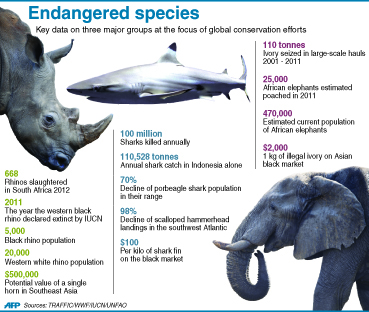 © Daily Mail, London
Follow @timesonlinelk
comments powered by

Disqus