Thisal Thulnith 'Mouse' star
View(s):

Making a star from maiden movie

Young Thisal Thulnith Moragoda, is the latest child star who became well-known for his performance in 'Mouse' Wasantha Moragoda's maiden film. Playing 'Sukiri', a young boy living in an area full of shanties, Thisal gives an impressive performance in his very first experience before camera. The film opens with a big day in Sukiri's life as he leaves with his mother to participate in a 'Young Inventors' award ceremony.

There his classmate Adeesha's name is announced as the overall winner and Sukiri claps and celebrates in jubilation. But within seconds his joy turns to sorrow as tears goes down through his cheeks when he himself realizes that it was his talents and hard work that paved the way for his classmate to win the award.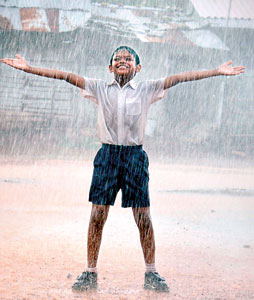 Twelve-year-old Thisal who is also the first son of Wasantha Moragoda, the director of the movie said that he never expected to play the lead role in 'Mouse'.
"My father always assured that my younger brother Lithmal Lokith and I would be acting in the film. But he never mentioned about the main role.
He appointed a judge board and the two of us were among 200 odd children who were interviewed and auditioned. In the end the judges selected me for the main role. They informed my father that I had maximum balance in acting and I was thrilled to get the main role," Thisal said.
Speaking on one of the most unforgettable scenes he acted, Thisal spoke about the scene where he sits with my mother at the award ceremony. "When my friend Adeesha's name was announced as the winner I had to clap with joy with a big smile on my face. Then almost immediately I had to change my facial expressions and start crying. It was a very difficult scene". Thisal also talked about the responses he has received for his performance "They are really positive.
I never expected so much popularity. I hardly get a chance to stay quiet at school. Everyone wants to talk to me personally. They all say that I am very good in acting. At the same time I have made a lot of friends. I take this opportunity to thank my mother and father and all those who helped me to achieve these great heights,".
Follow @timesonlinelk
comments powered by

Disqus