SL needs to lift its education levels for skilled jobs; CIM's Sir Paul Judge
View(s):

By Duruthu Edirimuni Chandrasekera

There is no scarcity of workforce entrants in most emerging markets, but concern runs deep that their skills will not meet the companies' requirements, according to Sir Paul Judge, Global President of the Chartered Institute of Marketing (CIM). As the economy in Sri Lanka is developing quickly, it needs to lift its education levels for skilled jobs due to this reason, he told the Business Times.
He was in the country recently on a fact finding mission commissioned with a view to forming a development plan for Sri Lanka towards the year 2030, with a particular focus on the country's education sector on an invitation extended by Foreign Minister Prof G.L. Peiris.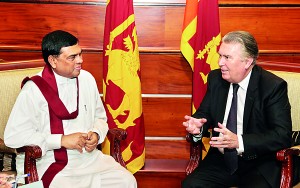 He added that as the country's economy is rising there's a huge training requirement. "This is especially true for tourism as it's now a growth sector. These changes also need faculty recruiting, curriculum changes, international study tours, diverse program offerings, local case development and international partnerships," he stressed. He said there is a rising need for marketing professionals for the local leisure sector which is primed for high growth and also to meet the future requirements of global players like Shangri La and many more.
He added that as the government cannot create wealth and only private enterprise can do so, the government's role is to facilitate private enterprise. "A good education system is certainly one of the most important prerequisites for this," he said, adding that CIM will launch training programmes on tourism promotion and CIM-related educational projects in Sri Lanka. Already such professionally trained persons in countries like the UK and Germany are doing highly-paid jobs, he said, stressing the importance of getting business professionals to teach in business institutions, instead of engaging lecturers which is the usual practice.
Sir Paul said that actual understanding of business and entrepreneurship can be greatly improved in Sri Lanka by including more business-related subjects in school curricula. He also said that for many students business is a hazy area and some are even suspicious about business.
"Business can help to improve entrepreneurship," he said, noting that business education must address the connection between business education and socio-economic development, a connection is relevant to public debates about the role of business in emergent economies.
Follow @timesonlinelk
comments powered by

Disqus