Memories are made of a box of tissues
Young writer Mariam Riza, who was one among the final five shortlisted for the 2011 Gratiaen Prize talks about her prized possession

View(s):
Mariam Riza keeps 35 tissues in a box. Each carries a discreet little brand and one glimpse is all she needs to remember where and why she picked it up. A tissue from Yoshinoya is the oldest in the collection, a reminder of sitting down to her first Japanese meal in Singapore in 2007. Mariam was just 17 then and had gone abroad to do her ACCA. "Everything was so emotional, that the people who helped and supported me in Singapore during my time became really close to me, in my heart. So, that simple lunch out with my friend, Michelle, was more than just what it seemed," she says. "It made me want to remember it, thus, the tissue."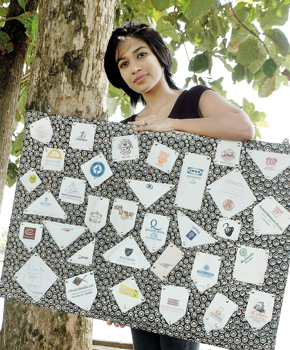 onnoisseur. When it comes to expanding her collection, foreign trips are something of a bonanza, because of what she likes to call the influx of 'new' styles. At home she's been disappointed more than once to find only the plain, unbranded kind.
However, she's in the game for life and is confident she'll find many more specimens for her quirky collection. Since she doesn't record the stories she associates with her tissues, Mariam knows there's a risk that in a few years she might not remember what they represent. "Because I don't write down the collection, I might actually forget why some came about, maybe half a century later, when I'm old and grey. But right now, as research has proven, a picture can trigger a thousand memories, and it works with me."
Her memories are a jumble of the sentimental and the light hearted – there's the tissue from Excel World that commemorates her first visit to a bowling alley. "I actually hit all ten pins twice, so wasn't I elated!" Then there's the one from Siam House, a reminder of "the many discussions and life-changing decisions and policies (maybe never kept) that were made there," and the one from the Hilton where she and her husband Imran tied the knot. Others include paper souvenirs from Bavarian Chocolate, the Queens Hotel in Kandy, the Nuwarawewa Rest House, Anuradhapura and a whole host of coffee shops and even IKEA. "My favourite tissue is where Imran and I had written our names down, with the date on it, just so that we could look back at it 50-60 years down the road and laugh," she says.
At 22, Mariam's best tissue collecting years are still ahead. This year her collection 'Cry For Me a Little: Stories of the Souls' made her a real contender for the Gratiaen Prize, being among the final five shortlisted writers. A Consultant Internal Auditor by profession, Mariam is currently reading for her Master's in Business Psychology. She anticipates all the good memories she's going to make: "There are so many places, that I haven't been able to get tissues from, this I hope to do, for the rest of my life."
comments powered by

Disqus