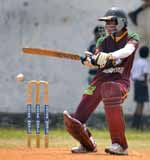 A TB Jayah Zahira batsman hits out - Pic by Amila Prabodha
T.B. Jayah Zahira Slave Island became the first holders of the Battle of the Greens Trophy when they defeated Arethusa College Wellawatte in their inaugural big match at the Malay Cricket Club (Padang) ground in Slave Island yesterday.
The 30 over encounter saw T.B. Jayah Zahira taking first lease of the wicket making a score of 193 which came on the back of a second wicket stand of 50 runs between Arafath Nawaz and Rahmath Ali. Arethusa College in their turn despite an unbeaten knock of 58 coming from Mohamed Faazil who was adjudged the man of the match for his all round performance was able to muster only 165 runs in their allotted 30 overs.
T.B. Jayah Zahira Slave Island 193 in 26.5 overs (Arafath Nawaz 47, Rahmath Ali 43, Iqlas Ismail 30: Mohamed Faazil 4 for 27, Mohamed Nazeer 3 for 21) Arethusa College Wellawatte 165 for 9 in 30 overs (Mohamed Nazeer 31, Mohamed Faazil 58 n.o.: Iqlas Ismail 3 for 39, Rahmath Ali 2 for 13) -MSA