Road accidents cause the most number of annual deaths in Sri Lanka with over 40,887 accidents annually in which six are fatal per day. Several hundreds are left seriously injured, some with lifelong consequences. Addressing this tragedy, Caltex together with the Sri Lanka Traffic Police has embarked on an islandwide communication campaign to create awareness on 'road safety', the company said in a media statement.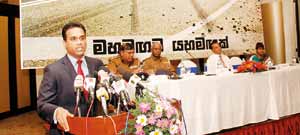 Kishu Gomes speaking at the launch
"Sri Lankan traffic injury and fatality statistics suggest that the rate of accidents and fatalities is increasing. The situation calls for both proactive measures to stop the numbers from worsening whilst using reactive measures to mitigate the crisis that threatens our families and communities," noted Kishu Gomes, Managing Director/CEO of Chevron Lubricants Lanka PLC.
He said the new communication campaign on 'Road Safety' launched by Caltex is extremely thought-provoking and urged the public to be cautious about road safety as the results for one's self, one's family and the society at large are immeasurable.
The campaign was conceptualized by Chevron following the previous campaign 'Caltex Road Star' launched in 2009, which was the first collaborative effort by Caltex and the Sri Lanka Motor Traffic Police, in an attempt to reinforce positive driving behaviour amongst the motorists in the country.