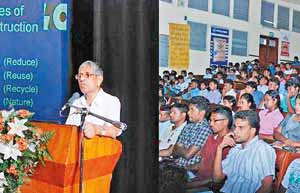 Picture shows Technical Consultant Dr. M. G.M.U Ismail speaking about 'Materials for Sustainable Construction' and students who attended the seminar
Tokyo Cement recently conducted an interactive seminar titled 'Bonding for the future' for the students of the Department of Civil Engineering at the University of Peradeniya.
The event, held to commemorate seven years of partnership between the university and Tokyo Cement, featured two prominent keynote speakers – Technical Consultant Dr. M. G. M. U Ismail and Consultant Engineer Mouli Gunaratne. The seminar was conducted at the E.O.E Pereira Theatre and attended by nearly 400 final and third year Civil engineering Undergraduates.