Cinnamon Lakeside Colombo has been listed as the 'Highest Valued Hospitality Brand in Sri Lanka' in the latest publication of Brands Finance. The annual review has been published for eight consecutive years by Brand Finance, a leading independent consultancy founded in the UK. The review assesses the health of leading brands in Sri Lanka as using available published data supplemented by independent market research to analyse performance, the hotel company said.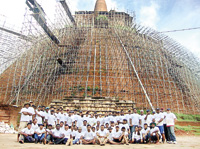 At the Abhayagiriya temple site
Having considered several factors that determine brand performance, such as financial and market performance measures, an assessment of the stewardship of the brand, approach to sustainability and consumer equity, the Cinnamon Lakeside Colombo brand was valued at Rs. 559 million with a brand rating of AA. Brand Ratings are based on strength, risk and future potential of a brand in relation to its competitors.
Operating in the increasingly competitive hospitality sector, Cinnamon Lakeside Colombo's performance may be attributed to several initiatives which have lead to its recognition as an industry leader.
Developments to the property include a Rs. 350 million renovation in October 2011 which followed a Rs. 464 million renovation project in September 2009. The John Keells Holdings-led company said the hotel has been ranked the best 'Five Star City Hotel' by Sri Lanka Tourism.
The hotel has also been involved in a series of cultural restoration projects beginning with the historical Abhayagiriya temple last year, followed by the St. Anne's Church Paradise in Kuruwita. The series will continue with projects involving a mosque as well as a Hindu temple this year.