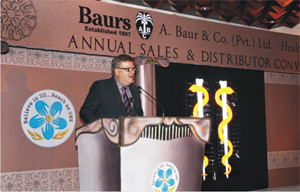 T.F.Daetwyler
The Baurs Annual Sales and Distributor Convention 2012 was held recently in Colombo to recognize and honour the company's Sales and Marketing force.
T. F. Daetwyler-CEO, seen in the picture, noted Baurs commitment in addressing important social, environmental and economic challenges and the vision to go beyond the core offering of medicines and vaccines to help make healthcare more accessible to the many that still do not have access to it.
Awards were presented in the categories of Star Sales Representative, Best Coordinators and Best Medical Representatives. Best Products and Recognition awards were given for support services.