Sri Lanka is launching into the hydrogen fuel sector with entry through the small scale SME sector with tests being carried out with 3-wheelers, according to a media release by the Ministry of Industry and Commerce. "UNIDO is planning the pilot project in Galle where hydrogen powered 3-wheelers supported by a mini hydrogen filling station will show us as how to implement this new technology in the country,"Nawaz Rajabdeen, UNIDO National Director for Sri Lanka, was quoted as saying in the statement.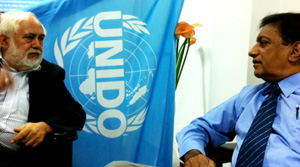 Picture shows Vittorio Coco with Nawaz Rajabdeen at the UNIDO Focal Point office in Colombo.
He made the announcement following discussions with Vittorio Coco, Consultant and Adviser of Sri Lanka's first Hydrogen powered pilot project which is set to test hydrogen powered 3-wheelers in Galle Fort.
He said 3-wheelers are banned in the UNESCO World Heritage Galle Fort due to their emissions but with the use of hydrogen powered zero emission wheelers, there will be no hazard whatsoever. In fact, the test site is chosen intentionally to demonstrate the high quality, non-polluting nature of hydrogen fuel," Mr Rajabdeen added.
The one year long pilot project in Sri Lanka is modelled on 'HyAlfa', the world's first hydrogen powered three wheeler unveiled in India in January 2012 by Mahindra & Mahindra. Mr Rajabdeen said UNIDO is also planning to bring down Indian experts at the official announcement in Colombo in mid-June.
Consultant Mr Coco said they want the hydrogen implementation to be in combination with existing renewable energy used in the country, and "we will not abandon existing renewable energy sources at all". The Sri Lanka pilot project will use 15 hydrogen powered zero emission 3-wheelers in Galle Fort and monitor them carefully for their pollutant free runs.