In an economy that is being shocked continuously by internal and external forces require cutting edge leadership to stay afloat. This also makes an executive of today to be strongly mobile to move to new industries that require strong General Management skills.
Which is why the need to be qualified with a Masters Degree is very important, so that an ambitious high flying senior manager of today can take their career to the next level. The 12 month MBA offered by Oxford College of Business (OCB) in affiliation with the Australian Institute of Business (AIB) attracts the cream of talent from the corporate world. OCB's 12Month MBA is designed to give a senior manager the opportunity to learn the most cutting edge best practices in the area of leadership development, strategic decision making and talent management that can be immediately transferred to practice so that the busy executive can face challenges of tomorrow with confidence.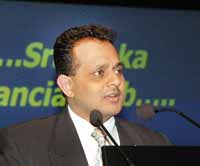 The best
Only the best from the Corporate world of Sri Lanka is selected to be trained by some of the country's best business practitioners at OCB and graduate with one the best MBA's in the country today. Therefore to be selected into the OCB's 12Month MBA program a candidate needs to have a high level of credible managerial work experience, a minimum of 5 years if a candidate is relying purely on his/her work experience. One of the facilitators who facilitate students on the leadership module at the 12Month MBA at OCB is Mr. Rohantha Athukorlala. Mr. Athukorala one of Sri Lanka's most respected industry experts and a Harvard Alumni member who is the facilitator for the Leadership addresses today's challenges.
He advocates the MBA candidates to reflect on their career path and understand that the 'best practices' will not take very fast in the turbulent economy of today but require a totally new skill set that includes finding the next best practice as delivery of expectations is more important than reputation now. Further the program looks at how senior managers are able to take challenges placed in their day to day work and bring out solutions that will highlight these individuals among the top management as individuals with unique leadership qualities. "This is mainly due to the unique way in which the module is designed which make students always look at leadership from a very practical aspect, this is why it makes the leadership module at OCB's 12month MBA cutting edge."
This calls for potential applicant to talk to their companies about financial support, and make their case for this type of development and the capability they will bring back to the organization once completing an MBA he says. "It's interesting that executive recruiters tell companies to invest in their people to build their leadership and be successful in attracting top talent in the future" In essence, the MBA program can become a tripartite partnership between the University, the MBA participant and the sponsoring organization.
High octane
The 12 MBA at Oxford College of Business is a highly-intensive, and challenging programme of study, putting many candidates out of their comfort zone which means that one must be also be physically fit together with mental toughness to go through the programme comments Mr. Athukorala. Which is why the MBA at OCB is designed by AIB to be a powerful immersion experience, and you are taking on a major commitment. But it is also one of the most engaging learning processes that you can experience. So while there will be stress, there will also be community and accomplishment. Being able to manage additional stress and tough times during their MBA is a skill set that further qualifies every student from OCB to stand out from everyone else in their respective companies"
Workload
"With an already busy workload, how do I find time to fit MBA studies into my weekly commitments?"
"This is a very common question that many students who wants to pursue their MBA studies ask me. However only a very few MBA's in the world are designed taking into consideration the work life of the busy executive. The 12 Month MBA offered by the Australian Institute of Business (AIB) is one such MBA. It is a full-time MBA run on a part-time mode where classes are only held on weekends says the MBA Course Director at OCB.
The 12 Month MBA is offered as one subject per month. This means that students need to focus on just one subject at a time, in addition to their usual personal and professional obligations. Focusing on one subject per month with approximately 35-40 hours of lecturing for each module is equivalent to the same number of hours put in a full-time MBA program for each module. The fact that the examination is just a month away from the start of each subject has contributed to high completion rates, as the students are continuously motivated! After all to get something you've never had, you must do something you've never done. It could be stated without a doubt that the 12month MBA offered by OCB helps students to become more productive in their working environments, demonstrating newly-developed competencies with greater responsibility, which often leads to promotion during the program, or directly after graduation.
The decision to make a serious 18-24 month commitment – from the admissions process to managing an overbooked agenda, bosses' expectations as well as respecting family commitments – goe far beyond rising compensation packages. There is much, much more adventure to OCB's 12month MBA program. There is also an incredible learning experience, a stimulating environment and the chance to meet people from all corners of every industry with rich, diverse backgrounds – people who form a network graduates can keep in touch with years after completing their programs.
All of the AIB-MBA alumni and alumnal we spoke to would whole-heartedly re-live their MBA experience at OCB without changing anything and a spectacular 99% of AIB-MBA graduates at OCB would recommend the 12 MBA as the ideal launch pad for rising executives ready to take on a new challenge and upgrade their career paths. Mr. Rohantha Athukorla who is a board director at many a private and public sector organizations voice "When the economic climate is tough and unemployment is high, the best investment people can make is to invest in themselves. The question is not whether you can afford to invest in yourself; it is whether you can afford not to."
The 12Month MBA at OCB is aimed at helping students differentiate themselves, their career, and their business. Students are taken that extra mile to give the edge which will help in delivering an outstanding performance. Oxford College of Business is committed to delivering a fair competitive advantage for their students which is the reason why the OCB- AIB MBA is the most sought after MBA program in Sri Lanka today. For more information contact the Malindu Ranasinghe - 0714151547 or visit www.12monthmba.com.au